1. 2020 Obituary & Biography
2. Pictures 2007: Bob and Fanuky
REMEMBANCES

1. Bio from Peace Corps Training
2. Service Desription and pictures from service of Group Bolivia 29.
===========================
1. 2020 Oituary & Biogaphy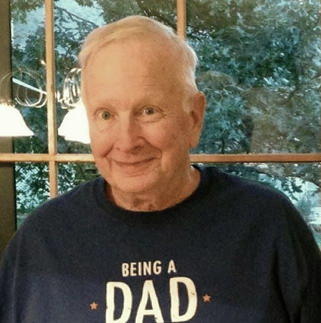 PRETTY LAKE — Robert A. Pruitt, of South Bend, Indiana, fought until there was no fight; he passed away on Friday, Nov. 20, 2020.
Affectionately known as "Papa", Bob was born on Sept. 5, 1940, in Frankfort, Indiana, to Virgil and Irene (Phillips) Pruitt. They preceded him in death.
He was a proud Hoosier, having earned a bachelor's and a master's degree at Indiana University in Bloomington and later another master's degree from the University of Notre Dame.
Bob served his country in the U.S. Marine Corps and the world in the Peace Corps in Oruro [Group Bolivia 29, 1967-79], Bolivia, where he met his late wife, Mary Kingdon [a Canadian Service group].
Nothing gave him more joy than his family, and his life was full of love and adventure, especially his later years, with his grandchildren.
While we will remember his aphorisms such as, "much obliged" and "that's like the garbage can calling the lid dirty", his insights about what's important in life are left with all of us blessed to know him. He truly was one of a kind; unconventional, empathetic, quick-witted, kind-hearted and he had a tremendous sense of humor. He also absolutely killed the Twitter game with more followers than his grandkids combined.
A beloved, father, grandfather, friend, and companion, he kept his circle small and loved those in it fiercely and unconditionally. He had a profound sense of right and wrong, always defended the little guy, and was never afraid to speak truth to power. He will be greatly missed.
Bob was preceded in death by his daughter, Cathy; and his brother, Jim Pruitt.
He is survived by his son, David (Kristin) Pruitt, of Granger; and daughters, Kristine Pruitt of Mishawaka and Eileen (Ryan Battista) Pruitt, of South Bend; as well as eight beautiful grandchildren, whom he cherished, Matthew, Mary Cate, Brendan and Anna Pruitt, Dylan Piazzoni, Aidan, Nora and Keira Battista; and his sister, Sandy (Maury) Waugh, of Fort Wayne.
Private family services will be held on Friday, Nov. 27, 2020, at Palmer Funeral Home-Hickey Chapel, 17131 Cleveland Road, followed by interment at Oak Ridge Cemetery in Buchanan, Michigan, with military honors.
In lieu of flowers, the family's preferred memorials are to The American Heart Association, by mail at 3816 Paysphere Circle, Chicago, IL 60674 or online at www2.heart.org or The Foundation of Saint Joseph Health System, COVID-19 Response Fund, by mail at 707 E. Cedar St. - Ste. 100, South Bend, IN 46617 or online at www.sjmedgiving.com/donate.
From KPCNews: https://www.kpcnews.com/obituaries/article_3efb3f6d-df78-5b55-ac7d-90688b6a3d88.html
===============
2. Pictures 2007: Bob and family
(below) Bob with members of his family in 2007.
(below) Bob in 2007, picture submitted for Conference in Colorado of Returned Volunteers who served in Bolivia or Peru.
REMEMBRANCES
==============

1. Biography & photo from PC Training April-June 1967.

A recent graduate from Indiana University in sociology, where he was on the Dean's list one semester, Robert also studied for six months in France during his college years.
Twenty-seven years old, Bob is from Frankfort, Indiana. He has worked as a parking lot attendant, hotel bellboy, waiter, animal caretaker, and motion picture projectionist to help take care of college expenses.
While in Europe, he traveled over most of the Continent (including Greece) and England. He has spent some time in Mexico, too. Robert learned sports judo during military service.
========================
2. Bob Pruitt: Service & Pictures from Peace Corps years in Bolivia Group 29-Mines (1967-69: Commentsby Don Beck
Our group -- Bolivia 29: The Mines Group -- was composed of volunteers who were older and had college degrees, on the most part. We were "the Mines Group" -- usually said as "the first and last group into the Bolivian Mines." The Bolivian Tin Mines had been taken over and nationalized by the Government. What began as a well-run company for a number of years was then "run into the ground."
Companies are usually like pyamids in terms of personnel -- more employees at bottom and fewer at top. COMIBOL (as the nationalized mines were called) was opposite: too heavy with high salaried people, and too few underpaid miners removing the ore, who eventually went on strike.
The miners at Comibol went on strike; though the mines wre then declared a military zone, our group went into them anyway. Miners had struck before we came because the miners weren't getting what they were promised / contracted for. At our Peace Corps one-year review, enough people in our group were put off by the impossible and unneessary things we were being asked to do by Peace Corps. And we, PC Volunteers, were put in to get them to do things promised tat COMIBOL would provide. Our presence and what we asked miners to get done seemed unnecessary.
For example we were to encouarge /show them how to do self -help projects, such as building basketball and other playing fields, recreation centers, child-care facilities and find people to run them -- all activities and projects guaranteed in their COMBOL contract. As a result, most of the volunteers in our group requested and got reassigned to other truly useful projects. Bob went to Oruro city from a mine in south Bolivia.
In the last year, I worked with Bob on an in-country Volunteer newsletter called PUES. In that time we produced 3 issues; (several more came after). In the scond issue we interviewed the US Ambassador and then in answering questions about the our group's unreal goals and activities, "implied he was a liar" in print. He didnt like that and was asking that all the people in our group -- connected or not to the program/newsletter.
Bob is enough of a principled person that as editor, he resigned several months early to return to Washington, DC, to speak to officials there about the truth in the whole matter. He spoke to Ted Kennedy, John Foster Dulles, Speaker of the House, Secretary of State, Senators, and more -- as well as various from Peace Corps. Eventually a man from Dept. of State, Bob White, was called in and sent to Bolivia: he settled the Ambassador immediately. Anyway, it was Bob Pruitt's work that forced a settlement from Washtington.
Bob Pruitt forfeited the stipend we got for Peace Corps service by resigning early. His actions proved he was a man of deep integrity. And the kind of person who never talked of it afterwards. He always was a man of principle one could admire and rely on. His smile and words were always real.
(Service noes fom Don Beck)
-----------------
3. Pictures from service of Group Bolivia 29.
(below) Bob, in front of Hogar (Orphanage) in Oruro.
f
(below) In-Country training (June 1967), dressed in attire to go into a Tin mine near La Paz. Mines went at an angle, so most of the time a miner was bent over, going in an angle down or up in the mine. Mines were declared military zones before we got there; so, we all had to go through check-points to enter or leave mining zones.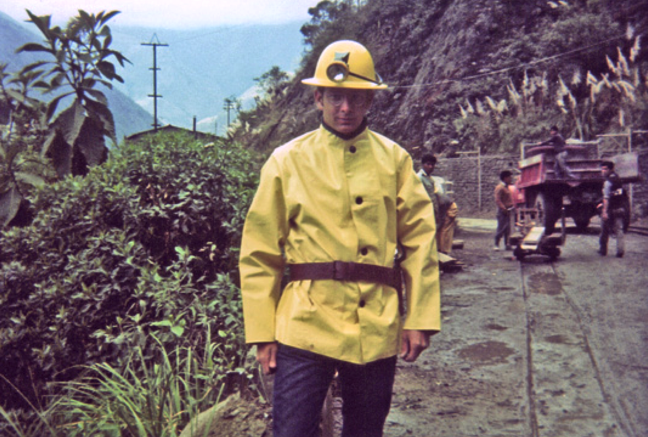 (below) In 1968, Bob (at right center, blue shurt) with students from the Hogar (orphanage). In addition to other activities, Bob organized building a wing of showers and sinks for their use.
(below) At Caroico (1968) a resort hotel, where our group met for our One Year Debriefing and Planning (June 1968). Work in the mines was not going as expected and many volunteers were re-deployed. Bob. for one, chose to go to the town of Ururo in the center of the altiiplano, three hours south of La Paz. He left a mining town in southern Bolivia. At center is of photo is Wanda Escheverria, a volunteer working with TB prevention, stationed in Santa Cruz , with those who wished to change to amother area. One such was Jeff Fletcher, who also switched to be stationed in Santa Cruz. Bob, at left, is bandaged because he suffered an accident falling from a truck carrying a mototorcycle.
(below) Bob with llamas on the altiplano, near to Oruro.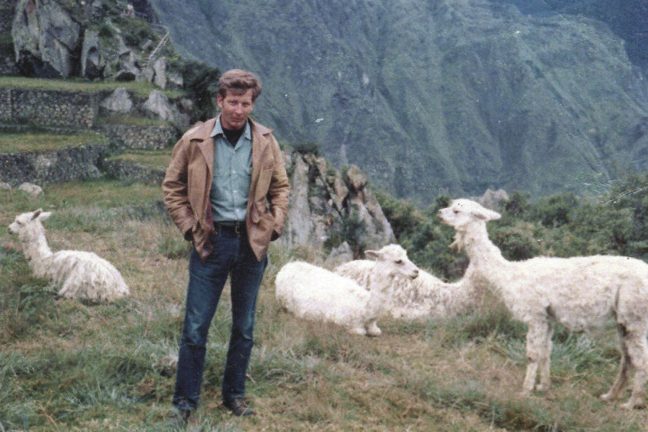 ========================