Obituary: Connie Weeks
.....

Oct 8, 1944 - Jan 21, 2020.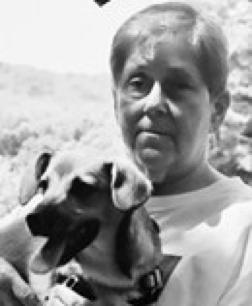 Chambersburg- Connie Weeks, resident of Chambersburg, died Tuesday evening, January 21, 2020 at the Chambersburg Hospital.
Born in Philadelphia in 1944, and raised in Media, Pa. Constance Barbara Chia Bluma (Life, Blossom) Levin Weeks owned a diploma from Media High School, a Bachelor's degree from the University of Pennsylvania in Political Science and a Teaching Certificate from Wilson College.
As a child, she attended Temple Israel Synagogue in Media, later she became a member of Living Word Fellowship in Suburban DC under the pastor-ship Stan Telchin, where she was church secretary.
Connie served in the Peace Corps in the 60's in Bolivia [1966-68, Group 22 -- Rural Community Development. Trained at Notre Dame].
In 1969 she married Wilhelm Levi Moller and she and her family survived the 1973 Yom Kippur War, living then in Haifa.
She was married to Dan Weeks in 1995 by Bill and Linda Harter of Falling Spring Presbyterian Church, where they met. She had worked at the Children's Home, and taught school at Chambersburg Christian Academy, and Faust Jr. H.S.. She was also active in the Franklin County Democratic Women's Club and served as a docent with the Franklin County Historical Society.
She liked to watch TV and was an avid fan of the Redskins, the Eagles, and MSNBC. She enjoyed cooking and made everything from London Broil to Latkas. She also loved history and archaeology.
She was preceeded in death by her brother, Leonard Bruce Levin, DVM, and parents Norma and Benjamin Levin. She is survived by her husband, her brothers, Dr. Eric Levin and Phillip Levin, her two sons, Arie and David Moller, and her grand children, William, Eitan, Shyleigh, and Tamir Moller.
In lieu of flowers, memorial gifts may be made to
Cumberland Valley Animal Shelter, 5051 Letterkenny Road, Hearken House, 79 S. Franklin St.
Chambersburg Christian Fellowship, 160 E. Liberty St. all of Chambersburg, PA 17201,
Franklin County Democratic Women's Club, PO Box 113, Fayetteville, PA 17222,
Arbor Day Foundation, 100 Arbor Ave., Nebraska City, Nebraska 68410
To the charity of your choice.
The funeral service will be at Sellers Funeral Home in Chambersburg. Visitation will be at 1p.m. and services at 2p.m. on Tuesday, January 28, 2020.
Published in Public Opinion from Jan. 24 to Jan. 25, 2020