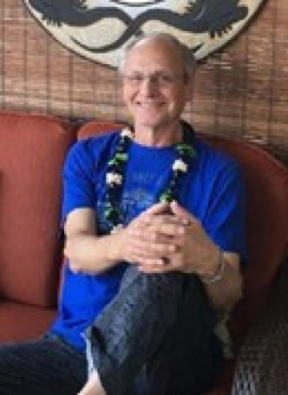 The world lost a man of great intelligence, a gentle nature, huge heart and a wonderful sense of humor when "Lance" Haddon died from ALS. Surrounded by his family, he died peacefully. He had bright blue eyes and a beaming smile. He was known for great Halloween costumes and telling "groaner" jokes. He loved to surprise people with double entendres, delighting in the laughter he evoked.
Born in Flint, Mich., to Russell and Sybil Haddon, he graduated from Holly High School (1963) and Michigan State University (1967). He joined the Peace Corps with his former wife Marcia and worked in Bolivia for two years. [Bolivia 31 Credit Union, Rural Electricity - 1967-1969] He and Marcia had two sons, Matthew "Matt" and Blair.
Returning to the United States he earned a MS (1973) and began his career in Higher Education, working at Colorado College, Willamette and Oregon State Universities.
While earning his PhD (1987), he met the love of his life, Carol Putnam. They married in 1988 and spent the next 30 years enjoying a menagerie of pets, traveling, attending theatre and exploring countries, cultures and cuisines. Lance loved to indulge his palate with exquisite coffee, dark chocolate and fine wines.
A born traveler, he explored parts of North and South America, Europe, Bhutan, India, Nepal and more. His last expedition was to the Amazon rainforest with Carol and his grandson Kai.
Giving back was important to Lance. He was a CASA and a SMART volunteer, taught ESL courses, tutored students, worked at the Food Bank, was a translator, a community organizer and more.
Lance modelled kindness, a sense of humor, honesty and a willingness to listen to different perspectives. He made friends and enriched the lives of people wherever he worked or traveled.
He was a bright, shining light and will be missed. He is survived by his wife, Carol Putnam; sons, Matt and Blair (wife, Jackie); brother, Hal (wife, Beverly); grandchildren, Kai, Ian and Natalie; as well as friends who became his "brothers."
A celebration of his life is being planned for April. In honor of Lance's life, please consider contributing to the ALS Association.
Please sign the online guest book at www.oregonlive.com/obits
Published in The Oregonian from Feb. 26 to Mar. 1, 2020
https://obits.oregonlive.com/1967-1969] /oregon/obituary.aspx?n=lance-russell-haddon&pid=195529158#_ga=2.90164635.1422892188.1584360663-81627188.1570525848