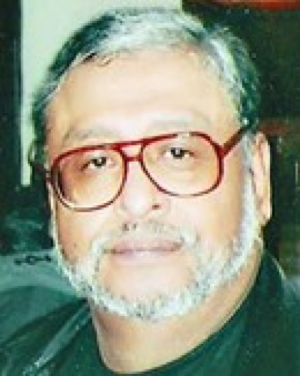 December 29, 1949 - July 16, 2017

On Sunday, July 16, 2017, John M. Arévalo entered into the gates of heaven. He is survived by his wife, Margaret, his children, Alex and Diana, and his siblings: Oralia Figuerroa, Frank Arevalo, Manuel Arevalo, and Francisco Xavier Arevalo.

He was the first in his family to graduate high school, college, obtain a Master's Degree, and be in the Peace Corps/Peru. He is a proud graduate of Fox Tech High School, Texas A&M- College Station, and the University of Texas at San Antonio. Unfortunately, his father, Johnny Arévalo, did not live long enough to see him graduate Texas A&M. However, his mother, Guadalupe Arévalo, lived long enough to see her son become an educator, husband, and father.
John Arévalo was passionate about his profession, teaching. For nearly 41 years, he taught history at Harlandale High School. For him, teaching was more than just a job, it was an opportunity to change someone's life. He mentored students and former students long after class ended, after they graduated high school, and in some cases long after they graduated college. He knew the challenges his students faced, and believed each and everyone one of them could pursue their college education regardless of their circumstance. He practiced tough love, and was always honored to write a letter of recommendation to any student who asked for one. In 1987, he began teaching at Palo Alto Community College.

Outside the classroom, he enjoyed working on issues affecting education. He was a member of the Texas Task Force for the Review and Revision of the Social Studies Essential Elements, was the Vice-Chairman of the Advisory Council for the Hispanic Student Success Program for the Hispanic Association of Colleges and Universities, was the recipient of the "Golden Rule Award," and was interviewed on "Good Morning America"

In 1973, he married his high school sweetheart, Margaret Urrabazo. Together, they raised two children, Alex and Diana. John had an overwhelming sense of joy for his family. He enjoyed watching his children grow up. From coaching his son's basketball team, taking his son to boy scouts, watching his son play lacrosse at Central Catholic, or going to his daughter's cross country meets for Incarnate Word, he always put his family first. He was proud to see his son graduate with his Doctorate of Medicine from Washington University of Health and Science, & witness his daughter become a Texas State Representative. Visitation will begin at 5:00 pm Monday, July 24, 2017 at Roy Akers Funeral Home, 515 N. Main Ave. with a Rosary to be recited at 7:00 pm. A procession will depart the funeral home at 9:30 am Tuesday, July 25, 2017 for a 10:00 am Mass at Immaculate Heart of Mary. Interment to follow in San Fernando No.2 Cemetery.
Published in Express-News on July 23, 2017
-------------------
from Google, in 2011
John M. Arevalo graduated from Texas A&M University in 1972 and received his M.A. from the University of Texas at San Antonio in 1983. He has taught world history and U.S. history at Harlandale High School and Palo Alto College since 1987.
He has served on the Bradley Commission on History in Schools and the Summerlee Commission on Texas History. Arevalo was awarded a fellowship by the German Marshall Fund to study in West Germany, and he represented the United States at the Proyecto Enseñanza de la Historia Reunión de Expertos at Cáceres, Spain. He has served as a member of the National History Standards task force at UCLA.
Arevalo was named a Master Teacher by the Farmers Insurance Company and was a recipient of the Golden Rule Award from JCPenney. Texas A&M recognized him with the Educators Shape the Future Award, and he received the Outstanding Teaching of the Humanities Award from Humanities Texas.