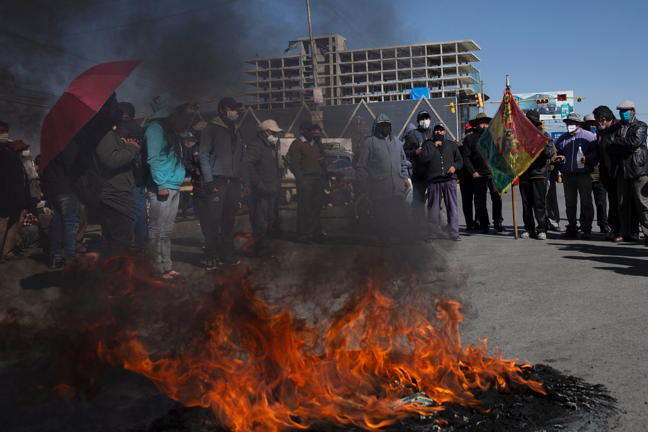 (above) A roadblock in El Alto, Bolivia, protesting the postponement of the general election.Juan Karita/Associated Press
Bolivia Under Blockade as Protesters Choke Access to Cities
August 7, 2020 - Original article: NY Times
Six million people have been marooned by 70 roadblocks set up to protest the government's response to the coronavirus and the postponement of the country's general election.
By María Silvia Trigo and Anatoly Kurmanaev
TARIJA, Bolivia — Antigovernment protesters in Bolivia blockaded some of the country's main roads this past week to challenge the delay of general elections and rebuke the government's poor response to the coronavirus pandemic.
The protesters — who support Bolivia's former president, Evo Morales — say they have set up 70 roadblocks, marooning about six million residents of three highland regions, including Bolivia's most important metropolis, La Paz.
Already, the blockade has raised fears of food and gasoline shortages, pushing throngs of La Paz residents into the streets to line up outside food markets and gasoline stations.
Bolivia's unrest could be a harbinger of what's to come elsewhere in Latin America, where citizens are losing faith in their countries' ability to contain the pandemic, and to mitigate the economic crisis brought on by measures to combat the virus.
The pandemic has killed more than 210,000 people in Latin America and plunged its economy into the deepest recession in at least a century, according to the United Nations. Bolivia is suffering one of the biggest outbreaks in the region, when adjusted for population; the virus has killed 3,000, sickened top government officials and overwhelmed hospitals.
The government on Thursday said it would break up the blockades by force if it can't reach an agreement with the protest organizers. The threat revived fears of a return to last year's political violence, when two dozen of Mr. Morales's supporters died during clashes with Bolivian security forces.
Protest organizers said they were allowing medical workers, medical suppliers and fuel to pass through the blockades. But government health officials said the blockades have reduced the supply of oxygen and other materials for coronavirus treatment, causing deaths.
Although there are no official figures, doctors from local hospitals said at least eight patients have died in the cities of Oruro and El Alto, outside La Paz, because of oxygen shortages this week.
The protesters "don't let ambulances pass, they pelt them with stones, threaten to burn them," said Dr. Antonio Viruez, the head of the emergency department at El Alto's Northern Hospital, the city's largest. "The situation is critical, because the inputs are not arriving."

The roadblocks, a common form of protest in Bolivia, come as the country is failing to control a spiraling coronavirus outbreak.Juan Karita/Associated Press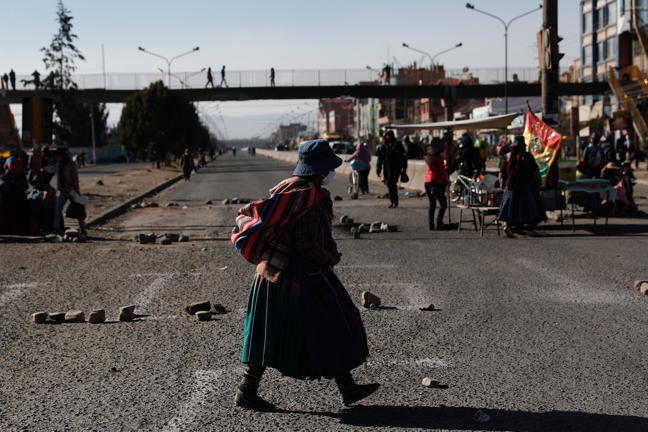 This week's protests were triggered by the Bolivian electoral board's decision last month to delay the general election for the second time this year, citing health concerns. It was supposed to be held on Sept. 6, but now has been pushed to October.
Government opponents in Bolivia's working class and rural areas have accused the country's interim president, Jeanine Añez, of using the delays to salvage her sinking election campaign and step up the persecution of opponents.
Protesters have called on the electoral board to re-establish the previous election date, or at least guarantee that no further delays will be made.
"The people are very angry and very committed," said Lander Marca, a local radio worker in Bolivia's coca leaf-growing region of Chapare, an anti-government hotbed whose residents have blockaded the country's main east-west highway. "They want to ensure that their political rights are respected."
Like dozens of other anti-government activists, officials and journalists, Mr. Marca was recently detained by security forces on charges related to violating public order. He has not appeared in court and remains under house arrest nearly four months after his detention.
The unrest could provide a welcome break for the beleaguered Ms. Añez, by allowing her to shift the blame for a weak pandemic response on the protesters, said Diego von Vacano, a Bolivian political scientist at Texas A&M University.
Roadblocks are a common form of protest in Bolivia, used by the working class who feel they don't have any other way to express themselves, Mr. von Vacano said. "In the pandemic, however, this is a double-edged sword that will be seen by many as a threat to their health."
The country's mountainous geography means a few well-positioned roadblocks can isolate major cities and bring the country to a standstill, a vulnerability that was exploited by Mr. Morales's rural supporters to great effect in the past.
Mr. Morales, Bolivia's first Indigenous president, was ousted from power in November after a fraught bid for a fourth term.
Exiled in Argentina, Mr. Morales continues to evince intense loyalty among many in Bolivia's Indigenous majority, who see him as a transformative leader who gave them a political voice for the first time in the nation's 200-year history.
The presidential candidate of Mr. Morales's party, Luis Arce, is leading the polls, raising fears among the former president's opponents that he will return to power after October and take revenge on those who ousted him.
In maintaining the protests, Mr. Morales's supporters are playing a high-stakes game that seeks to destabilize Ms. Añez's government and provoke a violent military response that will further sap her popularity, said Filipe Carvalho, a South America analyst at Eurasia Group, a Washington-based political consultancy.
"Both sides are playing the pandemic for electoral gain, adding a new level of tensions," Mr. Carvalho said. Whoever wins will take control of a highly divided country in deep recession and few options to restart economic growth, he said.
Norman Chinchilla contributed reporting from Cochabamba, Bolivia.