(above) Et tu, Anez? Photographer: Aizar Raldes/AFP via Getty Images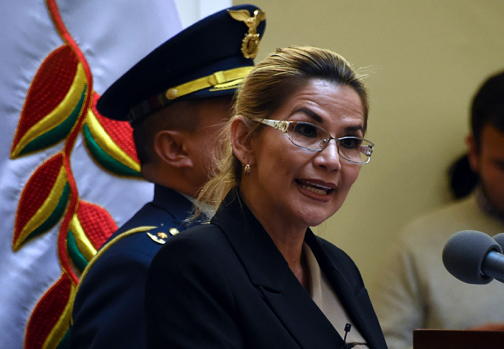 Bolivia's Acting President Has Toxic Ambitions
February 5, 2020 - Original article: Bloomberg
Her decision to run for office could jeopardize a smooth democratic transition and economic reforms.
By Mac Margolis

Bolivia's caretaker President Jeanine Anez had one job. Sworn in last year as interim leader when President Evo Morales fled the country after trying to steal an election, the legislative backbencher promised to shepherd a country inflamed by street turmoil, ethnic strife and combustible politics to new and cleansing elections in May.
Had she stuck to the plan, Anez, who had been set to retire from public office, might have gone down as that rarest of Latin American public figures, a peacemaker dedicated to parsimony and conciliation. Yet as with another Andean intoxicant of choice, a whiff of power rises fast. Anez quickly pivoted from caretaker to heiress apparent. She flaunted her Christian credentials, brandishing a Bible in a theatrical stroll through the presidential palace, a thinly coded slight to Bolivia's indigenous majority. She broke off diplomatic relations with Venezuela and Cuba, both close allies of the Morales government – hardly within the brief of a placeholder.
Going back on her word to step aside after the May 3 vote, she announced she would stand for president, claiming to be the best candidate to unite Bolivia's democratic opposition. The about-face drew sharp criticism from opposition candidates and drove her communications minister to quit. Sure, she then made the perfunctory nod to transparency and avoiding conflict of interest by asking her cabinet to resign (only to rehire most of them days later) and vowing to campaign only on weekends. That's the sort of doublespeak Bolivians had grown used to hearing from Morales as he bent the rules to extend his presidency indefinitely. "Anez has warmed to the job," said John Walsh, of the Washington Office on Latin America. "Apparently she's convinced she's the figure that Bolivia needs."
Bolivia deserves better. A smooth democratic transition would signal a commitment to the rule of law and institutional integrity. Restoring both democratic mainstays would be a blessing for this errant but still redeemable economy, which needs reform, not revanchism. Whoever takes over after the election will have to reckon with slower growth, shrinking demand for natural gas (which generates more than a third of export revenues) and a fiscal sinkhole that threatens a reasonable legacy of well-being.
Bolivians have fared better than many of their neighbors, maintaining solid economic growth with low inflation and unemployment well into last decade. Poverty fell 39% and the gap between rich and poor narrowed by 24% between 2005 and 2017. "Morales was more prudent than other leaders of the left like Hugo Chavez and Nicolas Maduro in Venezuela, or Rafael Correa of Ecuador," former Central Bank governor Juan Antonio Morales (no relation to Evo) told me. "His big mistake was to overstay his welcome and the failure to adjust the economy when the commodities boom ended."
Indeed, Bolivia achieved many of its vaunted social and economic gains by borrowing heavily against yesterday's bonanza. When prices for gas and minerals fell after 2014, Morales kept spending, turning a fiscal surplus into a deficit (now 8% of gross domestic product). As export revenues plunged, he raided international reserves to finance the growing current account deficit (now around 5% of GDP), so reducing the nation's hard currency stash by half since 2014.
A big challenge confronting the next government will be to explain to Bolivians that much of the prosperity they came to take for granted was an optical illusion.
Bolivians enjoy some of the cheapest gas in the world, and yet 60% of the lavish national fuel subsidy benefits those who are not poor. Better-heeled Bolivians are also the biggest winners for generous social giveaways such as free universal higher education and zero income tax. Taxpayers foot the bill for those socially regressive perks, to the tune of 3.7% of GDP a year.
Morales's departure opens a window to reform. Yet a political backlash looms because fiscal retrenchment affects not just the poor but influential interest groups.
In Ecuador, President Lenin Moreno was chased from the palace and nearly from office for trying to slash budget-distorting fuel subsidies, which he quickly restored.
Another urgent imperative: resizing the bureaucracy. When he served as the Central Bank's superintendent of banks and financial institutions in the 1990s, Jacques Trigo managed to pare his staff to 140 employees. Today, he said, the same department maintains a staff of 510.
Bolivia also needs to rethink its unfriendly rules on property rights, heavy corporate taxes, and the unpredictable legal system and bloated wages that keep productivity low and investors at arm's length. The World Bank ranked Bolivia the 156th most difficult of 190 countries for doing business last year.
That hostile environment has put a pall on greenfield investment and pushed many businesses and jobs off book. Not surprisingly, Bolivia is home to the world's biggest shadow economy, which generated 63% of GDP from 1991 to 2015.
Many more tasks await the next Bolivian administration. Yet Anez seems loath to wait or even leave any vestiges of the ancien regime, beseeching voters to prevent "the savages from returning to power." That attitude augurs ill for a self-proclaimed peacemaker who, if elected, will have to work with a legislature heavily represented, and possibly dominated, by Morales's allies. On Monday, Morales announced his own bid for a legislative seat.
Perhaps such choler is only to be expected in this fevered patch of the Andes, where political adversaries see the campaign as a battle between competing flocks. "Morales appealed to the Andean deity Pachamama and claimed our Inca forefathers fought the Roman Empire, while right-wing evangelicals talk about bringing scripture back into politics," said Jaime Aparicio Otero, former Bolivian ambassador to the U.S. "Magical realism is never far from Latin American politics."
Bolivia could use more plain old realism.
Paradoxically, Anez might have delivered just that as a judicious caretaker and garnered valuable political capital for the future. Now, in wanting more, Anez risks leaving Bolivia with far less.