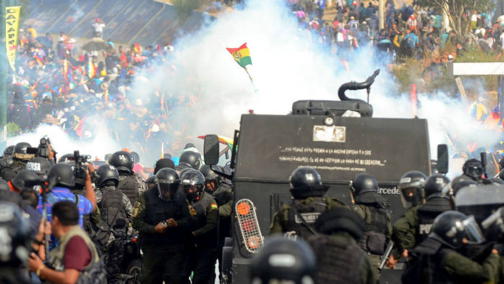 (above) Riot police had to quell protests in November by supporters of Evo Morales after the president resigned and fled Bolivia following disputed elections © AFP via Getty Images
Bolivia to hold new presidential election
January 3, 2020 - Original article: www.ft.com
Former leader Evo Morales will not be allowed to stand in May 3 poll

Bolivia will hold a new presidential election on May 3 to replace the one annulled late last year amid allegations of fraud.
The date was announced on Friday by Oscar Hassenteufel, vice-president of the country's electoral tribunal. He said the body would give more details on Monday.
October's disputed election sparked the worst violence in the Andean nation in more than a decade and forced longtime president Evo Morales to flee into exile, first to Mexico and then to Argentina.
He initially looked to have won the vote but the Organization of American States, which audited the results, said they were marred by fraud.
After Mr Morales left Bolivia, thousands of his supporters clashed with security forces loyal to the replacement interim government led by opposition senator Jeanine Añez. The resulting bloodshed cost more than 30 lives and brought the country close to civil war.
Recommended
Mr Morales will not be allowed to stand in the new election. He has already served three terms as president and sought to override the Bolivian constitution by seeking a fourth.
However, his MAS party will be allowed to participate and Mr Morales has named Andrónico Rodríguez, a young indigenous leader from a coca-growing region, and Luis Arce, Mr Morales's economy minister for many years, as possible successors.
For the opposition, former president Carlos Mesa was the main challenger to Mr Morales in October's vote but since then new figures have emerged who may wish to throw their hats into the ring.