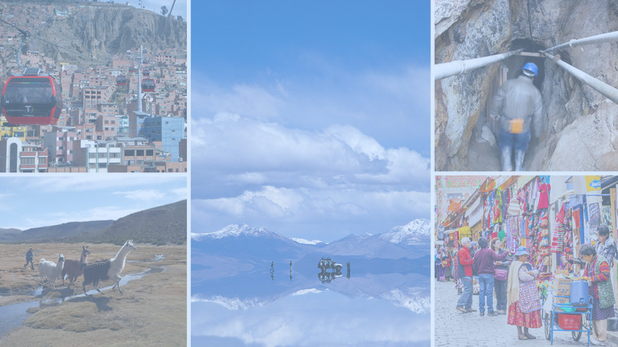 (above) First of 11 photos from photo gallery with article.
Photo Gallery: http://www.latimes.com/travel/la-tr-d-bolivia-main-20151213-story.html
Bolivia's raw beauty calls to travelers looking for adventure
December 12, 2015 - LA Times
Bolivia may be the hottest ticket in South America.
Yes. Bolivia.
With President Evo Morales' election to a third term in November 2014, Bolivia has enjoyed nine years of political stability — one of the longest stretches in its history since its independence from Spain in 1825. That has led to unprecedented financial growth; Bolivia's economy grew by 6.5% in 2013, making it the fastest-growing in all of South America.
If you want high-end luxury travel, this is not the country for you. But if you are looking for raw, untamed beauty and rugged adventure, Bolivia is calling your name. My husband, my sons Theo, 12, and Benji, 10, and I visited Bolivia this summer (winter in Bolivia) as part of a two-month South American odyssey. We went in search of adventure and to see the source of the silver that had fueled the Spanish empire.

Every traveler we met had a Bolivian tale to tell: bad food; crime in La Paz, the seat of government; debilitating altitude.
On that last matter, the Altiplano plateau, which makes up about a third of this landlocked country, is so high that it would give any Angeleno a splitting headache. We were below 11,000 feet only one day in two weeks.

Bolivia also has the largest indigenous population of any country in South America (60%), and its poverty rate, although shrinking, remains at about 40%.
Western countries blast Morales for being a socialist, but his nationalization of certain industries and investments in roads and a stunning new public transportation system in La Paz, as well as in airports and telecommunications, make travel safer, easier and more accessible for visitors. Many of the changes are so new that they were not reflected in our 2015 Bolivia guidebooks.
La Paz's Mi Teleférico — as the system of airborne cable cars or gondolas is called — opened three lines in 2014 (red, yellow and green, for the Bolivian flag), and six more are planned. The city finished the first of three phases of airport modernization in July. The winding road between Sucre and Potosí was repaved in the last three years, making it faster and safer.
And the airport in Uyuni, formerly just a landing strip, now has a terminal, a runway and has multiple flights a day from La Paz, making a trip to the salt flats easier.
We crafted a loose two-week itinerary that included La Paz, the salt flats of Salar de Uyuni and Potosí, the legendary colonial city with the mountain of silver.
We had planned more, but Bolivia is still unpredictable despite the investment in its tourism infrastructure.
Despite our fears, we were able to do it all, plus spend five days at Lake Titicaca and Isla del Sol, and a night in Sucre, Bolivia's capital known for its whitewashed colonial buildings.
What we saw left us craving to see more of Bolivia's culture and dramatic, varied landscapes.