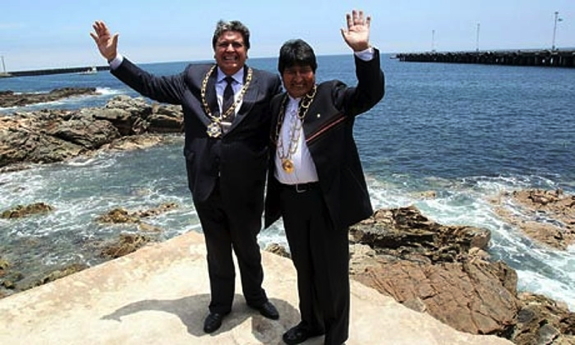 (above) The Peruvian president Alan García, left, and his Bolivian counterpart, Evo Morales, have signed a deal allowing Bolivia to build a port near Ilo, on Peru's Pacific coast. Photograph: Getty Images Ho/Getty Images

Peru gives landlocked Bolivia a piece of Pacific coast to call its own
October 20, 2010 - The Guardian
Peruvian leader, Alan García, signs deal with President Evo Morales allowing Bolivia to build port on small stretch of sand

Rory Carroll, Latin America correspondent @rorycarroll72

It might be a strip of sand without even a jetty but a small stretch of the Pacific coast now harbours Bolivia's dream of regaining a coast and becoming a maritime nation.
The landlocked Andean country has won access to a desolate patch of Peru's shoreline, fuelling hopes that Bolivia will once again have a sea to call its own.
President Evo Morales signed a deal yesterday with his Peruvian counterpart, Alan García, allowing Bolivia to build and operate a small port about 10 miles from Peru's southern port of Ilo.
The accord, sealed with declarations of South American brotherhood, was a diplomatic poke at Chile, the neighbour that seized Bolivia's coast and a swath of Peruvian territory in the 1879-84 war of the Pacific.
"It is unjust that Bolivia has no sovereign outlet to the ocean," said García, flanked by Morales in front of lapping waves at Ilo. "This is also a Bolivian sea."
Bolivia's leader said if he ever got married he would spend his honeymoon at the port and holiday resort to be built on the 1.4 square mile patch of sand that La Paz will lease from Lima for 99 years.
"This opens the door for Bolivians to have an international port, to the use of the ocean for global trade and for Bolivian products to have better access to global markets," said Morales. "Bolivia, sooner or later, will return to the sea."
The agreement, a modest step towards Bolivia's maritime dream, marked a reconciliation between Peru's conservative, pro-business leader and Bolivia's outspoken socialist. Morales once called García "fat and not very anti-imperialist".
The deal allows Bolivia to build a dock, moor naval vessels and operate a free trade zone, in theory giving it an alternative to shipping exports such as zinc, tin and silver via Chile.
Some doubt, however, whether Bolivia will follow through with the necessary investment. A similar, albeit more limited, accord in 1992 was trumpeted by Bolivia's then president, Jaime Paz Zamora, but the promised infrastructure never materialised, leaving the sands outside Ilo untouched.

This time may be different. Bolivia's economy is thriving and Morales, an Aymara Indian and the country's first indigenous leader, has promised to restore national pride.
Maritime yearning is expressed by a sign at a Lake Titicaca base where Boliva's tiny, idiosyncratic navy putters in tranquil waters 3,800 metres above sea level. "The sea belongs to us by right, to take it back is our duty."
From his presidential palace at La Paz, Morales, like his predecessors, speaks in front of an antique map showing Bolivia with its pre-1879 coast. White-uniformed sailors serve as his guards of honour.
Chile's seizure of territory still rankles Bolivians and Peruvians, who say there is nothing more dangerous than a Chilean with a map and a pen. Chilean refusals to return some of the territory, as well as jokes about inviting Bolivians to the beach, have not helped salve the wounds.
The presence of a Bolivian among the 33 miners saved in Chile prompted some detente. Chile's president, Sebastián Piñera, speaking from London during a European tour, welcomed "dialogue" with his neighbours but made no mention of concessions. "The past divides us, the future unites us."