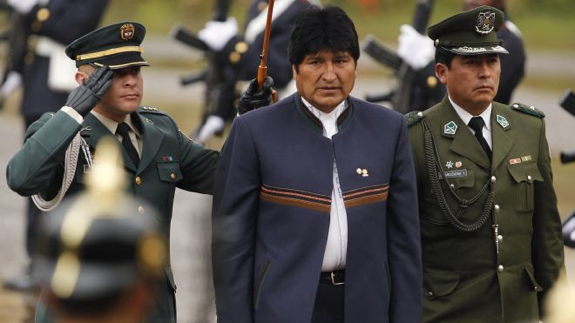 (above) Bolivia's President Evo Morales arrives for an Andean Community of Nations meeting at the presidential palace in Bogotá, Colombia. (AP Photo/Fernando Vergara)
Bolivia's Evo Morales planning continent's largest nuclear research center, with Russia's help
November 20, 2015 - foxnews.com

La Paz, Bolivia – Bolivian President Evo Morales said Thursday he wanted the nuclear research center planned for the city of El Alto, near La Paz, to be South America's largest.
The leftist leader made the remarks while inspecting the land on which his administration will build the facility, which will use Russian technology.
The facility will be equipped with a cyclotron for use in medical research and treatment, a nuclear research reactor and a gamma irradiation plant.
He also confirmed that he planned to meet next week with Russian counterpart Vladimir Putin in Tehran, where both leaders will attend the Gas Exporting Countries Forum's third gas summit of heads of state and government.
During that meeting, Morales said he would ask for Putin's support in making the project the largest center of its kind in South America.
Russia's ambassador to Bolivia, Alexey Sazonov, and a delegation of visiting Russian technicians accompanied Morales during the inspection of the center, which will be installed on a 37-acre parcel of land that the Central Bank will transfer to the government.
The research center, to be completed in four years once the deal with the contractor is signed, is projected to cost $300 million to build.
The center is part of the Bolivian government's peaceful nuclear energy program, which was announced in 2014 and has the backing of the United Nations' International Atomic Energy Agency.
The government decided to build the center in El Alto after residents of the capital's Mallasilla district opposed an initial plan to put the facility in their neighborhood due to concerns about radiation.
Morales on Thursday criticized those who opposed construction of the center in La Paz as "right-wing" elements eager to thwart Bolivia's development plans, saying the project would contribute to the country's "scientific and technological"