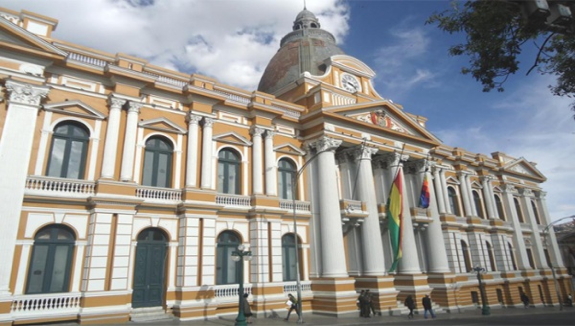 (above) Bolivia's Senate has agreed on a date for a vote that could allow President Evo Morales to run for office again in 2019. | Photo: ANN Bolivia
Bolivia Locks in Referendum Date
October 31, 2015 - telesurtv.net

Bolivian legislators have officially approved February 21, 2016 as the date of a landmark vote on presidential term limits.

Bolivia set a date Friday for a historic referendum on term limits, now set for early next year.
The referendum is now locked in to take place on February 21, 2016, after a Senate committee agreed on a date for the widely anticipated vote.
The referendum will ask Bolivians whether a constitutional two term limit for presidents and vice presidents should be amended.
Under Bolivian law, the constitution can be altered through a grassroots referendum called by 20 percent of the electorate or through a reform within the legislature with two-thirds support. Either instance would also require a referendum.
If successful, the proposed term limit reform would allow President Evo Morales to run for office again in 2019. Morales is currently serving out the final term allowed under the Constitution, and without the reform will be barred from re-election.
Morales, 55, was first elected in 2005 and re-elected in 2009. The Bolivian leader was granted permission to run a third time in 2014 on the grounds that he had only served one term under the new constitution.
The referendum proposal, which was initially scheduled to take place in January, has received backing from both Bolivia's ruling political party Movement Towards Socialism (MAS) as well the country's country's largest social movements. Morales himself remains popular in Bolivia, particularly among the country's poor and coca farmers.
Earlier this month, six Federations of Coca Growers from the Tropic of Cochabamba in Bolivia have gave their full support to President Evo Morales if he runs for re-election in 2019.
Margarita Teran, leader of the group, said all the growers were set to begin a tour in mid October to encourage people to vote "Yes" in the February national referendum.
"Our leaders will go to all the departments of the country to inform everyone about the referendum and will conduct a campaign to support for the re-election of our brother Evo Morales and his Vice President Albaro Linera," Teran said.
In August, Indigenous leader Melva Hurtado explained why it was so important to many that Morales be allowed to run again.
"The president needs to keep governing between 2020 and 2025. We will never again allow neoliberal parties to govern again," Hurtado said at the time.