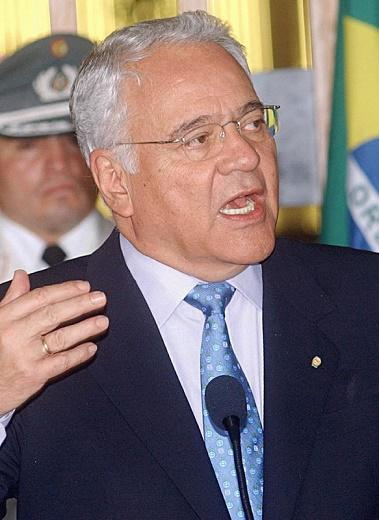 (left) Gonzalo Sánchez de Lozada, known as "Goni" (Wikimedia Commons)
Our Brand Is Impunity: Why is the U.S. Harboring Bolivia's Most Wanted Fugitive?
October 29, 2015 - nacla.org
The new film Our Brand is Crisis doesn't tell us how a president who authorized the massacre of indigenous Bolivians has lived with impunity in the U.S. for 12 years.


Emily Achtenberg
Our Brand Is Crisis, a new feature film produced by George Clooney and "inspired by true events," tells the story of a presidential campaign in a fictional Latin American country that is besieged by social unrest.
In real life, the country is Bolivia, the year was 2002, and the candidate was Gonzalo Sánchez de Lozada ("Goni"), a deeply unpopular former president who was propelled to victory by the nefarious campaign strategies of prominent U.S. polling and marketing consultants Greenville Carville and Shrum. Goni, a U.S.-educated millionaire mine owner, won the election with only 22% of the popular vote.
What the film doesn't show is what happened less than a year later. In October 2003, Goni authorized the violent repression of indigenous citizens who were protesting the privatization of Bolivia's oil and gas reserves, and the proposed export of cheap gas to the U.S. through Chilean ports. The results were 68 dead and 400 injured, including onlookers and children. Most of the violence took place in El Alto, the indigenous city overlooking La Paz that was the epicenter of Bolivia's "Gas War."
The massacre sparked a popular uprising that led to Goni's resignation, followed by a chain of events culminating in the 2005 election of Evo Morales as Bolivia's first indigenous president. Goni and his defense minister Carlos Sánchez Berzaín fled to the US, where they have lived for 12 years in comfort, relative obscurity, and with full impunity, shielded by successive Republican and Democratic administrations.
Bolivians, though, have not forgotten. This past month, in what has become an annual ritual, families, survivors, and friends of the victims marched in El Alto, together with hundreds of supporters from popular and neighborhood organizations, to commemorate the events of "Black October" and demand that the perpetrators of violence be brought to justice.
Beyond his infamous responsibility for Black October, Goni is equally despised in Bolivia for overseeing a radical neoliberal program of privatization, austerity, and deregulation at the behest of the US government and international financial institutions. While helping to reduce hyperinflation, these free-market reforms also led to rising unemployment, deepening poverty, and transnational corporate control of Bolivia's economy.
In 2004, after a concerted campaign by the victims' families and human rights groups, more than two-thirds of the Bolivian Congress—including many members of Goni's own party—voted to authorize a "trial of responsibility" for the perpetrators of the Black October violence. Seventeen former military and government officials, including Goni and Sánchez Berzaín, were charged with serious human rights crimes, including homicide, torture, and "genocide in the form of a bloody massacre." Seven have been tried and convicted in Bolivia, receiving prison sentences of 3-15 years in a landmark 2011 case. However, under Bolivian law, those who fled into exile cannot be held legally accountable unless the government succeeds in extraditing them.
The Bolivian government's initial petition for the extradition of Goni and Sánchez Berzaín, filed in 2008, was rejected by the U.S. State Department in 2012, seemingly because some charges lacked equivalency in U.S. law. A revised request, filed in July 2014, is still pending.
The obstacles to success remain formidable, including Goni's long-standing dual citizenship, advanced age (85), and, especially, his close ties to powerful US politicians and business tycoons. In addition to his relationship with top Democratic political operatives James Carville, Stan Greenberg, and Bob Shrum (detailed in the original Our Brand is Crisis, an excellent 2005 documentary by Rachel Boynton), Goni was advised in his 2002 campaign by Mark Feierstein, who currently serves as Obama's Senior Director for Western Hemisphere Affairs at the National Security Council. Greg Craig, Goni's former attorney, coordinated Bill Clinton's legal defense during his impeachment trial and later became Obama's White House Counsel.
Last April, Goni was a featured speaker in a lecture series at Mercer University's Center for Undergraduate Research on Public Policy and Capitalism, financed by the Koch brothers. More than 300 US solidarity activists, academics, and representatives of civil society organizations protested the event in a letter to the university president, requesting that video testimonies offered by the Black October victims' families also be aired to provide a more balanced perspective.
Underlying the conflict over extradition is the fraught political relationship between Bolivia and the US that has persisted throughout the Morales era, characterized by mutual distrust and a tendency on both sides to exploit ideological differences for domestic political gain. The two countries have not had formal diplomatic relations since 2008, when Morales expelled U.S. Ambassador Philip Goldberg for suspected consorting with conservative opposition leaders who were actively seeking to destabilize his government—a suspicion subsequently borne out by Wikileaks cable revelations—and the US responded in kind.
In 2013, Morales also expelled USAID for meddling in domestic political affairs, an accusation that gained widespread traction due to the agency's lack of transparency in funding. A few months later, the grounding of Morales's presidential jet in Europe when the U.S. suspected that fugitive Edward Snowden might be on board substantially undermined a new "framework agreement" for bilateral relations negotiated by the parties in 2011.
Morales has repeatedly clashed with the U.S. over drug policy. In 2008, he expelled the U.S. Drug Enforcement Agency (DEA), symbol of the repressive U.S. War on Drugs, to embark on a new anti-drug trafficking strategy that acknowledges Bolivia's traditional uses of coca and enlists the powerful coca growers' unions in regulating their own activity through social control.
Despite a recent United Nations report documenting the success of this policy, in the form of a significant reduction in Bolivia's coca-growing acreage, the U.S. has continued to "decertify" Bolivia for "failing demonstrably" to curb illegal drug trafficking. This means that the U.S. will likely continue to deny previously-granted trade preferences for Bolivia's manufacturing exports, an economic sanction that Bolivia deeply resents. Recent revelations that the US has secretly indicted several top government officials and their associates as a result of a DEA drug sting have reinforced Morales's suspicions that a vengeful DEA is working to undermine his administration.
Still, with the recent U.S.-Cuba thaw setting a new standard for diplomatic pragmatism in the region, there is good reason to anticipate that U.S.-Bolivia relations will improve. As with Cuba, a primary motivating factor is likely to be the availability of new markets for U.S. businesses in Bolivia, now that, with the end of the commodities boom, the Morales government has stepped up its efforts to attract foreign capital.
Just this past week, Morales showcased investment opportunities in Bolivia's hydrocarbons, mining, energy, manufacturing, and tourist sectors at a New York City conference, "Investing in the New Bolivia." The event, sponsored by the London-based Financial Times (FT), drew more than 150 corporate and financial representatives from the U.S .and around the world, with 34 companies (including Seattle-based Boeing) expressing significant interest.
Despite Morales's warnings that foreign companies must partner with the government and not meddle in domestic politics —important differences from the neoliberal Goni era— Bolivia's new pro-business climate could go a long way towards countering the recent history of ideological and rhetorical conflict between the two countries. Even so, with Goni's still powerful bipartisan connections, it's hard to say whether improved economic and political relations could elevate the status of Bolivia's extradition request on the bilateral agenda. It's also unclear whether extradition is still a top priority for the Morales government, or has been superseded by other nationalist causes—such as Bolivia's demand for the return of its seacoast from Chile—that have gained new political traction.
Meanwhile, a civil suit filed against Goni in 2014 by the families of Black October victims, seeking compensatory and punitive damages under the Alien Tort Statute and the Torture Victim Protection Act, is progressing slowly through the US courts. Last May, Goni was forced to submit to a 6-hour deposition, an emotional experience for the families— and the first and only time he has appeared in a judicial forum to account for his crimes. The families are also pursuing claims in the Bolivian courts to allow the assets of those convicted of Black October crimes to be auctioned off and paid to them as reparations.
Here in the US, solidarity activists have launched a parody website to tell the true story of state violence and impunity that lies behind the fictionalized Our Brand is Crisis. It includes video testimonies from the families of Black October victims and survivors and a petition demanding Goni's extradition.
Emily Achtenberg is an urban planner and the author of NACLA's blog Rebel Currents, covering Latin American social movements and progressive governments (nacla.org/blog/rebel-currents).