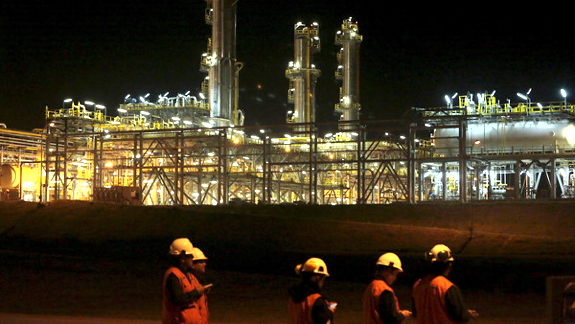 (above) The country's oil and gas sector was nationalised under Evo Morales ©David Mercado/Reuters
Bolivia wants to become the energy heart of South America
October 26, 2015 - ft.com
James Wilson
Daylight was fading on Bolivia's southern border and the flames were dying down on the pyre where a baby llama had been sacrificed. The country's president, Evo Morales, was concluding a ceremony marking the handover, in August, of one of the biggest investments yet in the country's gas sector.
As seven trucks of liquefied petroleum gas rolled out of the Gran Chaco plant, bound for Paraguay, Morales hailed "the start of an industrialisation that is going to give lots of hope to Bolivians".
FirstFT is our new essential daily email briefing of the best stories from across the web
The construction of the $700m Gran Chaco natural gas liquids separation plant is the latest consequence of what is arguably the single most important act of Morales' nine-year presidency: the nationalisation of Bolivia's oil and gas sector. With that sweeping step, Bolivia took control of its most important natural resource and scaled back the role of foreign investors including Total, Repsol, Petrobras and BG Group to that of junior partners of YPFB, the state energy company.
Bolivia has trumpeted the success of increasing both gas exports and domestic consumption. But now YPFB's management of Bolivia's hydrocarbons and the Morales administration's strategy are under perhaps more scrutiny than at any time since the dust settled on the 2006 nationalisations. Falling gas prices are shrinking the revenues on which the government and many regions have come to rely.
Bolivia's ambition, reliant on gas much more than its small oil reserves, is to develop its role as the "energy heart of South America", a position its geography and resources should allow it to fulfil. Pipelines carry gas to Brazil and Argentina, with plans to extend sales to neighbours. Alvaro García Linera, the influential vice-president, even raised the prospect of exports to Chile.
But after years in which critics say Bolivia has neglected exploration — and "milked the cow" in the words of one sector executive — YPFB is having to lead an accelerated campaign to find reserves to underpin contract renewals. It also has to maintain and expand gas production. Contrary to government confidence, some analysts and industry insiders expect production to start falling soon from its current level of about 60m cubic metres a day.
(below) The president opens the Gran Chaco plant ©Getty

"The real challenge is to be able to manage reserves," says Carlos Delius, an industry entrepreneur and former head of the CBHE, Bolivia's hydrocarbons and energy association. "If Bolivia were a private company, it would be in trouble, because it is not growing its reserves portfolio."
Luis Alberto Sánchez, the energy minister, says government projections point to a rising surplus from 2018. "We know the projections. I do not expect big problems."
Investing more in exploration and production are not YPFB's only strategic options. Bolivia is making unprecedented investments in a suite of petrochemical plants aimed at kickstarting an industrial base founded on gas. An ammonia and urea plant to make fertiliser is under construction in an $877m investment. Guillermo Achá, YPFB's president, is also promoting plans for plastics processing plants in the coming decade.
These are ambitious projects. All told, YPFB has a $30bn investment programme for the next 10 years. "These are astronomical sums, never before seen in the Bolivian economy," says Sánchez.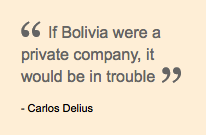 The industrialisation strategy is coupled with efforts to build power generation capacity. The idea is to get more value out of gas in processed, rather than raw, form. René Orellana, the planning minister, says Bolivia plans to invest almost $9.6bn in generation, noting that exporting electricity to Brazil and Argentina would be more profitable than exporting unprocessed commodities.
"Even if we have an increase in internal demand for electricity as our industries grow, we would still be able to deliver significant electricity to our neighbours. By 2020, we are planning to increase our electric energy supply to around 4,800MW from the 1,600MW we currently produce," he says.
Much depends on YPFB getting bang for the extra bucks it intends to put into exploration. Bolivia's gas reserves, which had to be adjusted down dramatically about six years ago on technical grounds, stand at about 10.5tn cubic feet. Speaking at an industry conference in August in Santa Cruz, Bolivia's oil and gas capital, Achá said exploration was a priority. He made clear he expects foreign companies to take part in the drive to lift reserves to 11.5tcf in 2021 and 18tcf in 2025. These figures include the depletion of existing reserves.
Given that nationalisation left the government "take" from some gas fields at 82 per cent, Bolivia has not been good at incentivising foreign investment. For many companies, it is one thing to make the most of their sunk investments, but quite another to extend their Bolivian exposure. If Bolivia proves an unreliable gas supplier for partners such as Brazil, it may bring more competition upon itself in the shape of LNG imports. Brazil is stepping up investment in LNG infrastructure, although industry insiders in Bolivia say the pipeline between the two countries remains a powerful advantage, and do not foresee that opportunities to sell as much gas as possible will disappear.
(below) YPFB, the state energy company, is to invest $30bn in the next 10 years ©David Mercado / Reuters

As Bolivia responds to the need to promote exploration, a series of government decrees this year has tilted some rules in favour of investment. Most controversially, the prospect of drilling in protected landscapes was raised. That has sparked unease among environmentalists previously sympathetic to Morales' administration, but Sánchez insists a very small percentage — 0.04 per cent — of the protected areas is at potential risk.
Claudia Cronenbold, president of the CBHE, says the changes are "positive", but much hangs on a long-anticipated law offering investment incentives, which the government is expected to unveil in October. Sánchez expects it to "be a turning point that will allow Bolivia to increase reserves, production and income", and says his talks with the industry suggest investment will be attracted.
Privately, some executives are sceptical. Cronenbold says the law "would have been more opportune a year or 18 months ago. Today it is more and more difficult for it to have the required impact [because of prices]".
Delius warns that Bolivia needs to be aware of its role in the international oil and gas landscape. With the industry in flux and foreign investors becoming choosy, Bolivia "has to put itself in context", he says. "It is not the centre of the world. We are not in a position to dictate terms to anyone."