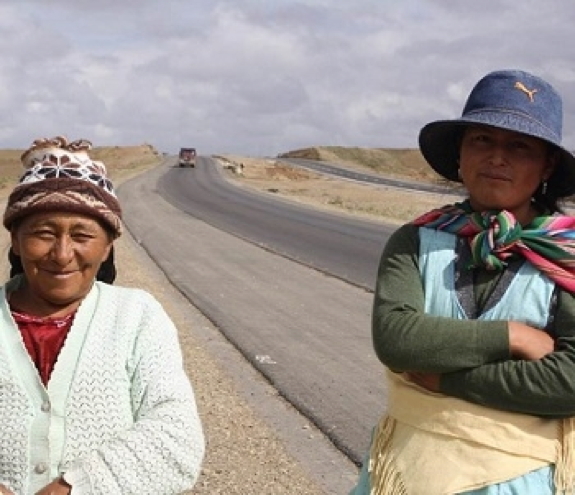 (above) A girl dressed in a Bolivian sailor costume attends a rally in support of Bolivia's bid for access to the sea in La Paz, Bolivia, Thursday, Sept. 24, 2015. The United Nations' highest court ruled that it has jurisdiction to hear a case focusing on access to the Pacific coast for land-locked Bolivia. Bolivia asked the International Court of Justice in 2013 to order Chile to negotiate over Bolivia's claim to at least part of the strip of Pacific Coast. Bolivia lost its access to the ocean during the War of the Pacific that it fought with Chile in 1879-83. (AP Photo/Juan Karita)

Bolivia will improve road quality and safety with IDB support
September 24, 2015 - USNews.com (AP)
THE HAGUE, Netherlands (AP) — The United Nations' highest court ruled Thursday that it has jurisdiction to hear a case on giving access to the Pacific Ocean for land-locked Bolivia.
The South American nation lost its access to the ocean during the War of the Pacific that it fought with Chile in 1879-83.
Bolivia asked the International Court of Justice in 2013 to order Chile to negotiate over Bolivia's claim to at least part of the 240-mile (400-kilometer) strip of the Pacific coast. Chile responded that the court had no jurisdiction, arguing in part that a 1904 peace treaty between the two countries settled their borders.
The court's judges rejected Chile's claim by 14-2 vote, meaning the case can now be heard, a process likely to take many months. The ICJ's rulings are final and binding.
In Bolivia, President Evo Morales ordered that public offices raise flags asserting Bolivia's claim to the sea. In a square near the presidential palace in La Paz, hundreds gathered to celebrate, singing the national anthem and holding signs proclaiming "Sea for Bolivia."
Morales said in a national address that the court's decision was received with "humility" and "certainty" that justice would prevail.
"I call on the government of Chile to accompany this process with dialogue," he said.
Chilean President Michelle Bachelet played down the decision. Speaking to reporters, she said Chile's territorial integrity hadn't been affected so "in that sense, Bolivia hasn't won anything."

"We maintain the conviction that Bolivia's case is baseless," she said. "It confuses rights with aspirations, and completely distorts the history between Chile and Bolivia."
____
Carlos Valdez in La Paz, Bolivia, and Eva Vergara in Santiago, Chile, contributed.
Copyright 2015 The Associated Press. All rights reserved. This material may not be published, broadcast, rewritten or redistributed.