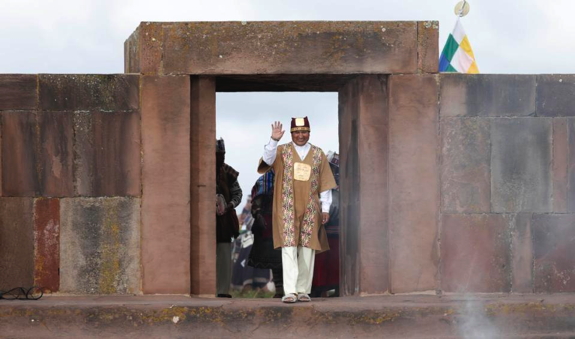 (above) In this Jan. 21, 2015, file photo, Bolivia's president Evo Morales waves to supporters during a blessing by Indian healers, in a traditional ceremony at the archeological site Tiwanaku, Bolivia. Morales' backers finalized plans on Tuesday, Sept. 8, 2015, to amend Bolivia's constitution so he can run for re-election in 2020. (AP Photo/Juan Karita, File)
President Morales expected to seek fourth term in Bolivia
September 9, 2015 - news.yahoo.com (AP)
LA PAZ, Bolivia (AP) — President Evo Morales' backers are seeking to amend Bolivia's constitution so he can run for re-election in 2020.
The plan finalized Tuesday night comes just eight months after Bolivia's first indigenous president won a third term. Morales' backers control the two-thirds of congress needed to pass the legislation.
After that, voters would decide in a referendum.
Farmworkers union leader Gustavo Aliaga said Wednesday that the bill will be sent to congress next week.
Morales told reporters Monday that he backs the referendum.
Former President Jorge Quiroga says it will create a monarchy.
Morales' approval rating in the latest polls tops 50 percent. But he is beginning to grapple with economic woes owing to Bolivia's heavy dependence on exports of natural gas and minerals, which are fetching lower prices.