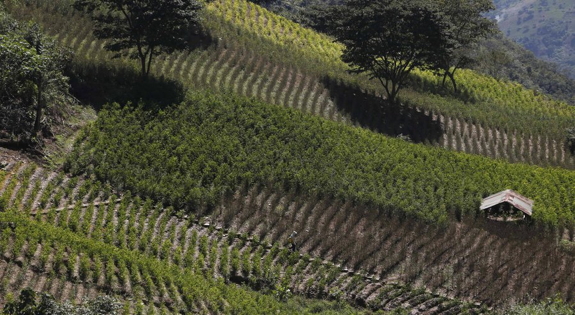 (above) This June 7, 2015 file photo shows a coca farm in Huancane, Bolivia. The area under coca cultivation in Bolivia fell 11 percent in 2014 and eradication has cut it by a third since 2010, according to top U.N. drugs and crime agency official in Bolivia, Antonino De Leo, who presented the report on Monday, Aug. 17, 2105 with Bolivia's President Evo Morales. Bolivia's approach allows select growers limited acreage. (AP Photo/Juan Karita, File) The Associated Press

Cultivation of coca leaf in Bolivia falls to 13-year low
August 17, 2015 - San Diego Union Tribune (AP)
By CARLOS VALDEZ Associated Press

LA PAZ, Bolivia (AP) — The United Nations said Monday that Bolivia's eradication of unauthorized crops dropped the Andean nation's area under coca cultivation by 11 percent last year and by one-third since 2010.

At its lowest in 13 years, the 20,400 hectares (79 square miles) of the crop used to make cocaine is just 400 hectares more than what President Evo Morales' government considers legal. It accounts for 15 percent of overall coca cultivation, by U.N. count. Colombia leads with 52 percent; Peru has 33 percent.
Morales said the drop proves Bolivian-style coca eradication is more effective and humane than the U.S.-backed methods long employed in Colombia and Peru and bankrolled in part by Washington.
Morales, who has continued to lead a coca growers union during his presidency, expelled the U.S. ambassador and Drug Enforcement Administration in 2008, accusing them of inciting the opposition. He said Monday that Bolivia's approach, which allows select coca growers limited acreage, is preferred to "external military intervention."
The top U.N. drugs and crime agency official in Bolivia, Antonino De Leo, praised the results at a news conference with Morales.
"Bolivia's success is explained by the efforts of the government and social control of the 'cocalero' unions and, more important, it's been done peacefully and with respect for human rights," he said.
Eradication has not been completely peaceful, with resistance claiming six lives during Morales' nine years in office, noted drug policy expert Kathryn Ledebur of the Andean Information Network. Four of those were members of an eradication team attacked by coca growers in 2013.
"I don't think Morales has appeased cocaleros completely," she said.
Bolivia is also a major cocaine transit and processing nation.
Tons of Peruvian cocaine transit the country annually headed for Brazil, Argentina and Europe, with Colombian, Mexican and Brazilian traffickers active in the country's eastern lowlands.
___
Associated Press writer Frank Bajak in Lima, Peru, contributed to this report.