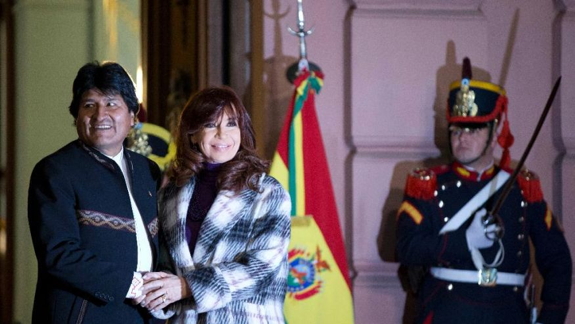 (above) Bolivia's President Evo Morales and Argentina's Cristina Fernandez hold hands as they wait to unveil a bronze statue of Bolivian war of independence heroine Juana Azurduy de Padilla, behind the government house in Buenos Aires, Argentina, Wednesday, July 15, 2015. The statue is a present from Bolivia and replaces a statue of Christopher Columbus brought down in 2013. (AP Photo/Natacha Pisarenko) (The Associated Press)
Argentina, Bolivia presidents unveil independence heroine statue, replacing Columbus
July 15, 2015 - foxnews.com
BUENOS AIRES, Argentina – The presidents of Argentina and Bolivia have unveiled a statue of Bolivian war of independence heroine Juana Azurduy.
The 25-ton, 16-meter-high (52-foot-high) statue replaces a polemic statue of Christopher Columbus that was taken down in 2013.
The present from Bolivia was unveiled Wednesday behind Argentina's presidential palace during an official visit by Bolivian President Evo Morales.
The Columbus statue became a political flashpoint between Argentine President Cristina Fernandez's center-left government and conservative Buenos Aires Mayor Mauricio Macri when it was brought down.
Argentina's Italian community and officials in Buenos Aires said the statue belonged to the city not the federal government. But Fernandez defended her decision to replace the Italian explorer with the South American independence heroine.
The Argentine and Bolivian leaders also signed border security and trade agreements.