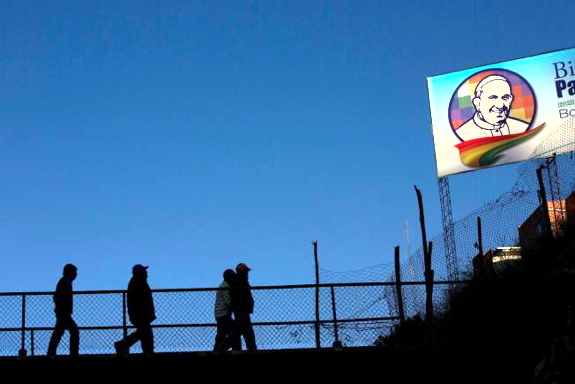 (above) People walk near a sign with the image of Pope Francis in El Alto, Bolivia, Tuesday, July 7, 2015. Due to the altitude, Pope Francis will spend only a few hours in the capital city La Paz, which is near El Alto, during his South American tour. The pope arrives to Bolivia on Wednesday. (AP Photo/Rodrigo Abd)
Church-state tensions in Bolivia cloud Pope's visit as Morales seeks to limit church influence
July 8, 2015 - USNews.com (AP)

By CARLOS VALDEZ, Associated Press
LA PAZ, Bolivia (AP) — President Evo Morales is a huge fan of Pope Francis, and says he couldn't be happier they are of the same mind that capitalism promotes social inequalities that leave the poor by the wayside.
But until Francis' election to the papacy in 2013 — and even today to a lesser degree — Morales' government has had rocky relations with the Catholic Church.
No sooner had Morales taken office in 2006 than the Bible and cross were removed from the presidential palace. A new constitution in 2009 made this overwhelmingly Catholic nation a secular state and Andean religious rituals replaced Catholic rites at official state ceremonies.

All of which sets the stage for an interesting diplomatic dance Wednesday when Francis arrives in Bolivia's capital for an official visit, welcomed by Morales at the airport and then accompanied by him to a meeting with local officials and diplomats.
"There are some challenging issues in terms of Evo Morales taking on a quite combative role against the church, which he sees as a challenge to his authority," said Clare Dixon, Latin American regional director for CAFOD, the English Catholic aid agency. "The church is also questioning some decisions made about development in the country."
Morales, a native Aymara known for anti-imperialistic speeches and for expelling the U.S. ambassador and Drug Enforcement Administration, came to power championing Bolivia's 36 indigenous groups and enshrined their rights in the constitution.
But he has alienated lowlands natives by promoting a highway through a nature reserve and authorizing oil and natural gas exploration in wilderness areas. Cheered by environmentalists abroad for his demand that wealthy nations do more to combat climate change, Morales has been under fire at home from critics, including activists in the church, who say he puts extracting petroleum ahead of clean water and forests.
Mario Gutierrez, an environmental specialist in Bolivia with the Catholic charity Caritas, said the Morales government is poisoning indigenous communities and deforesting habitats important to them.
"We are, as the church, truly concerned, " he said.
The president's tensions with the church have been manifold.
Morales considers the Catholic Church a powerful vestige of the colonial-era servitude from which the indigenous — more than 60 percent of Bolivia's population — are still trying to recover.
The government made it obligatory to teach other religions in schools alongside Catholicism, the faith of nearly four in five Bolivians. But it lost a major skirmish when it tried to prohibit obligatory Catholic religious education in the 15 percent of schools run by the church.
In the heat of the dispute, Morales accused Cardinal Julio Terrazas, then head of the Bolivian bishop's conference, of being aligned with the opposition and stripped him of his diplomatic passport.
All official ceremonies in Bolivia are now preceded by rituals venerating the Andean earth goddess Pachamana.
That doesn't square with the Bolivian church hierarchy, which in a 2012 pastoral letter called school texts that refer to Pachamana as a divinity "erroneous and a deviation."
Morales calls himself a Catholic and says he believes, as many Andean natives do, that there's plenty of room for both Christianity and traditional beliefs.
"I remain convinced that we Bolivians have a double religion, double faith," he said in January. "We are Catholics, but at the same time we have rituals of our own."
Morales is never one to hide his opinions: When he met in 2010 with Francis' predecessor, Benedict XVI, he gave him a letter suggesting the church abolish celibacy and allow women to be priests.
"The church doesn't have to deny a fundamental part of our nature as human beings and should abolish celibacy. That way there will be fewer boys and girls whose fathers don't recognize them," he said at the time.