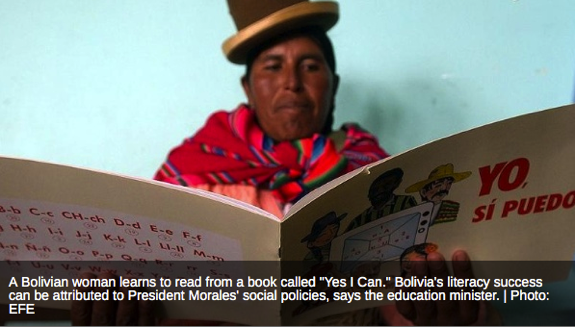 (above) A Bolivian woman learns to read from a book called "Yes I Can." Bolivia's literacy success can be attributed to President Morales' social policies, says the education minister. | Photo: EFE

Illiteracy Rate Drops to Historic Lows in Bolivia
June 17, 2015 - telesurtv.net

The country was declared illiteracy free in 2008, while its numbers continue to drop.
Bolivia recorded this week that its illiteracy level has fallen to 3.12 percent of the population, the lowest the country has ever seen, Education Minister Roberto Aguilar announced Monday, adding that it is a major achievement for the country whose illiteracy rate was closer to 13 percent less than 10 years ago.
"In 2005 we started with an illiteracy rate of nearly 13 percent," said Aguilar. "This year the illiteracy rate is 3.12 percent. Out of 100 people, three are illiterate, and of these three, two are over 65."
However, the education minister regretted that illiteracy rates are highest among women, with three out of every four illiterate persons being female.
Aguilar attributed Bolivia's educational success to the social policies of President Evo Morales – who has been in power since 2006 – and his creation of a Plurinational State, which granted more power to the various cultures and ethnicities within the country.
Bolivia was declared officially illiteracy free in 2008 when it recorded that only 3.8 percent of its population was unable to read or write. Since 2008, that number has been getting progressively lower. According to UNESCO, the cultural branch of the United Nations, countries are deemed free of illiteracy when the rate is less than four percent.