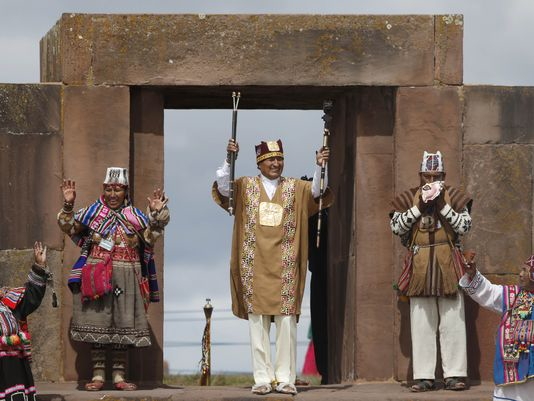 (above) Bolivia's President Evo Morales holds his sacred staffs of power in a ceremonial swearing-in, led by Aymaran spiritual guides, at the archeological site Tiwanaku, Bolivia.(Photo: Juan Karita, AP)
Revolt from indigenous base challenges Bolivia's Morales
May 21, 2015 - USA Today (AP)
LA PAZ, Bolivia (AP) — Just months after President Evo Morales won re-election with a convincing three-fifths of the vote, Bolivia's first indigenous president is suddenly up against a formidable opposition.
It comes not from the conservative business elite that long has chafed at Morales' leftist rhetoric, but rather from the very "anti-colonialist" movement that propelled him to power nearly a decade ago.
When Morales next week swears in mayors and governors elected in runoff voting May 3, he will be face-to-face with those who have benefited from the discontent with his Movimiento a Socialismo, or MAS.
Opposition candidates won mayoral races in eight of Bolivia's 10 most important cities, a gain of two. MAS held onto only two, relatively minor state capitals — Sucre and Potosi.
Significantly, a former rising star in Morales' inner circle who turned insurgent won the governorship of La Paz state, Bolivia's most populous state, home to the capital and a bastion of indigenous power.
Felix Patzi, a native Aymara like the president, was Morales' first education minister. A drunken-driving arrest undid his 2010 bid for the governorship.
"An opposition is emerging from the very core of MAS," said political scientist Marcel Silva of La Paz's Universidad Publica.
Not only has Morales' party been badly buffeted by corruption scandals and a highly questioned judiciary, critics say he has sold out to economic elites, labor bosses and mining cooperative magnates at the expense of the indigenous majority whose interests he vowed to defend. Critics say he has selectively ignored the constitution adopted in 2009 that granted semi-autonomy to the country's 36 indigenous groups.
"There is a lot of disgruntlement about how power has been exercised," said Jim Shultz, director of the Democracy Center, a nonprofit group based in Cochabamba that supports social justice.
Morales acknowledges that corruption, chiefly involving state-run industries and office-abusing prosecutors and judges, has hurt the movement. While he personally has not been accused of wrongdoing, he is blamed for not adequately investigating and punishing graft.
The opposition mayor-elect in El Alto, the capital's sister city, is also an Aymara, Soledad Chapeton, who unseated a Morales ally after he was caught on video allegedly receiving a payoff.
"The government has worn itself out through its own errors. What's left are indigenous folks who speak well of Morales, but a lot of others are distancing themselves as they feel stepped on," said Adolfo Chavez, former president of a federation of eastern Bolivian indigenous groups.
Chavez broke with Morales in 2011 after the president alienated lowlands indigenous groups by backing a trans-Amazon highway through a pristine nature reserve called TIPNIS.
Another scandal that broke during the recent campaign evinced crooked favoritism within the government-run Fondo Indigena that finances agricultural and other projects with funds from Bolivia's natural gas industry, the government's cash cow.
The state comptroller's office said $10 million was siphoned from the fund through phantom and inflated projects such as a garlic plantation in which not a single plant was grown and a sheep-raising project in which sickly animals were delivered.
Morales' economic governance, meanwhile, has been more Milton Friedman than Marx, leftist critics complain.
Businessmen got easier credit and fewer export restrictions — and Morales promised to topple Amazon forests to add a million more hectares of tillable land. Union leaders got a government-built hotel and more than a dozen SUVs. Mining cooperatives got tax breaks and a law that lets them accept foreign investment, unorthodox for nominally socialist rulers, though it must come through the government.
When he won a third term in October, Morales' main challenger was cement- and fast food-magnate Samuel Doria Medina from the traditional, capitalist-friendly opposition whose leaders tend to be "mestizos," the term Bolivians use to describe lighter-skinned people of mixed European-indigenous ancestry.
Spin ahead to 2019. Morales is barred from seeking another term, although many suspect he intends to find a way to try. Whether he runs or anoints a successor, the main challenger is most apt to be an indigenous defector.
The night of his election victory for La Paz governor, Patzi declared himself the candidate to beat in the next presidential vote. Whatever happens, he fits the cultural profile.
As education minister, Patzi sought equal standing for native languages in curricula and similar respect for traditional Andean beliefs.
"Evo's government was indigenous-focused while I was there," Patzi said. Then, it "abandoned the possibility of a true change seeking equality of opportunity for both indigenous and mestizos."
Governing party deputy Manuel Canelas calls Patzi a "traitor," charged that the governor will try to divide MAS in La Paz, where it dominates the local legislature, by putting allies on the public payroll.
Patzi calls MAS "a stalled and exhausted project." His confederate in the Soberania y Libertad party, Luis Revilla, was re-elected mayor of La Paz.
Patzi advocates restoration of the communal politics traditional to the high Andes, the very civic-minded culture that had him stomping mud and straw into adobe bricks for home construction as punishment for his drunken-driving violation. He calls his project a third way, neither capitalism nor socialism. It emphasizes consensus — and the regular rotation of power.
"Morales embodied those ideals," he said. "But people are frustrated."
___
Associated Press writer Frank Bajak in Lima, Peru, contributed to this report.