Bolivia Plans to Invest $617 Million to Develop Lithium Industry
April 6, 2015 - Latin American Herald Tribune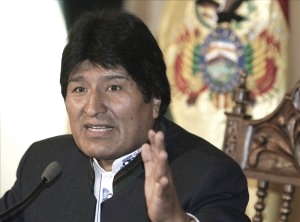 LA PAZ – Bolivia plans to invest $617.9 million over the next three years to develop the lithium industry around the Uyuni Salt Flat, located in the Andean province of Potosi, President Evo Morales said.

The project will be carried out with a loan granted to the government by the Central Bank earlier this week, Morales said during a ceremony on Wednesday marking the founding of the city of Potosi.

The goal is to move from the pilot phase to industrial production of lithium and potassium, another chemical element found in the Uyuni Salt Flat, the president said.

The project will start with the design of plants to produce potassium and lithium carbonate, with construction and development of the industry expected to take place by 2018, Morales said.

The government acknowledged last year that the lithium industrialization plan had suffered "serious setbacks" since Morales signed an executive order on April 1, 2008, covering the industrialization of the Uyuni Salt Flat.

The Uyuni Salt Flat, a dried-up sea bed that stretches over a more than 10,000-sq.-kilometer (some 4,000-sq.-mile) area, is the world's largest reserve of the planet's lightest metal.

Lithium-ion batteries are used to power a range of electronic devices, including cellphones, laptops and digital audio players.

The government has already invested about $115 million in projects aimed at developing the Uyuni Salt Flat.

Morales's administration refuses to enter into joint ventures with foreign companies unless they agree to construct plants in Bolivia to manufacture lithium batteries and electric vehicles.

The Bolivian government says the salt flat contains 100 million tons of lithium reserves, although the U.S. Geological Survey puts the figure at just 9 million tons.