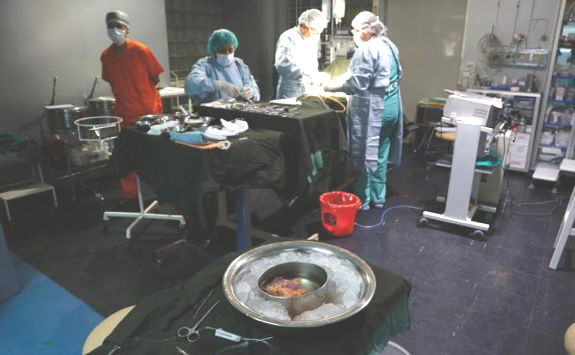 (above) In this Dec. 1, 2014 photo, doctors and assistants work on a kidney transplant for Maria Ramos, who received a donated kidney from her mother, at a private clinic in La Paz, Bolivia. Ramos, 27, finally got the kidney she needed thanks to an ambitious new Bolivian government program that makes organ transplants available at no charge to the poor. Yet the program must overcome multiple hurdles, beginning with deep-rooted cultural resistance in this largely indigenous nation. (AP Photo/Juan Karita)
In Bolivia, cost-free organ transplant program hamstrung by culture and 'curanderos'
February 22, 2015 - US News & World Report (AP)
By PAOLA FLORES, Associated Press
LA PAZ, Bolivia (AP) — For seven years, Maria Ramos battled bouts of depression as she underwent thrice-weekly dialysis treatments to keep her alive, her ambition of becoming a schoolteacher a seemingly unattainable dream.
Now, she has hope. In December, the 27-year-old Ramos finally got the kidney she needed thanks to an ambitious new Bolivian government program that makes organ transplants available at no charge to the poor.
The program has boosted transplants threefold from 2009 to a record 182 in 2104, and access to dialysis machines in public hospitals has quintupled since President Evo Morales took office a decade ago. Before its launch, most poor Bolivians with failing vital organs typically faced death.

Yet the program must overcome multiple hurdles, beginning with deep-rooted cultural resistance in this largely indigenous nation.
"There is no custom of donating organs, not in life nor when someone dies," said Silvia Paz, director of the Renal Health program that was launched last year.
Many Bolivian highlanders believe that if someone is buried without an organ, his or her soul will wander restlessly and not find peace. Also complicating health care — impeding early diagnoses of multiple ills — is the common practice among poorer Bolivians of seeking out "curanderos," or traditional healers, in lieu of doctors.
Before a friend finally found her the doctor who diagnosed her, Maria Ramos' mother took her to a "curandero" who gave her herbal teas that made her vomit.
"I even thought the devil had gotten into my body," she said.
In the end Ramos, as nearly all organ donation beneficiaries in Bolivia must, got her kidney from a relative — her mother.
"A lot of people say that the body should be buried whole, but I had to give my kidney to save my daughter," said her 54-year-old mother, Carmen, who earns the minimum wage of $213 a month as a gardener and whose older husband barely works.
Ramos now says she can pursue the teaching career she has long aspired to.
While the program is giving new hope to the long-neglected, it remains incipient, with challenges aplenty.
Under a 2011 law, organs can be removed from the newly dead for transplant with familial consent, but only four kidney transplants were performed last year under such circumstances, said Juan Carlos Calvimontes, a former health minister.
A common belief among the Aymara and Quechua who populate Bolivia's high plains, says anthropologist Milton Eyzaguirre, is that neither the organ donor nor the beneficiary will live peacefully because "the soul resides in every part of the body."
"The Andean view of the universe holds that humans arrive whole into this world and that's how we should leave," says traditional healer Mariano Quispe.
Such beliefs could impede efforts to deal with a growing health issue, though Quispe says people now often compensate by making offerings to Pachamana, the earth god, before entering the operating room.
A record 114,690 organ transplants were recorded globally in 2012, and nearly seven in 10 were of kidneys. Sixteen percent, or 17,923, occurred in Latin America, according to the World Health Organization. And the WHO says the need for replacement organs is expected to rise.
In Bolivia alone, chronic renal failure is up 60 percent in the past nine years, due largely to changes in lifestyle and diet, according to the Health Ministry.
No government-backed organ donation program exists, though a public relations campaign is planned this year to promote the practice. There is no process, as in other countries, for indicating on one's driver's license or national ID card the desire to donate an organ upon death.
Donors must instead register with the Health Ministry. A computerized registry system does exist in the eastern city of Santa Cruz and the idea is to extend that model nationally.
Eighty Bolivians are on the waiting list for kidneys. Without more deceased organ donors, their chances of receiving one are slim.
Among them is Xenobia Tarqui, a 22-year-old nanny and only child who lost her parents six years ago to a road accident.
Though she needed it earlier, she began dialysis treatment three years ago when it became free and she now spends hours a week hooked up at a public hospital.
Tarqui tries to stay positive.

"At least now I have the hope of getting a donor."
___
Associated Press writers Carlos Valdez in La Paz and Frank Bajak in Lima, Peru, contributed to this report.