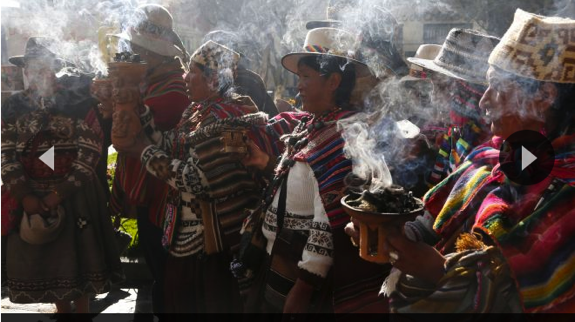 (above) Andean religious leaders carry urns with burning incense in a procession of the Bolivian deity statuette "illa of Ekeko" as it is driven to the Alasitas Fair, in which Ekeko is the central figure, in La Paz, Bolivia, Saturday, Jan. 24, 2015. The pre-Columbian figurine that symbolizes abundance was recently returned to Bolivia by the National Museum of Berna in Switzerland, 156 years after being taken away from its native country. "Alasitas" is an Aymaran word that means "buy me," and is the name of the annual fair where people buy miniature items that represent things they hope to attain within the year. (AP Photo/Juan Karita)
Bolivians celebrate return of 2000-year-old god of prosperity Ekeko
January 25, 2015 - Fox News Latino

LA PAZ, Bolivia (AP) – Hundreds of people have been marching through the streets of Bolivia's capital tossing flowers and dancing to celebrate the return of a 2,000-year-old icon of the god of prosperity, Ekeko.
The Museum of History in Bern, Switzerland, recently sent the 6-inch (15.5-centimeter) image back to Bolivia.
It was created by the Pucara culture that flourished from about 200 years B.C. to 200 years A.D. near the shores of Lake Titicaca.
Swiss naturalist Johann Jakob von Tschudi reportedly took the icon from several locals in 1858 in return for "a glass of cognac."
Saturday's celebration comes during the feast of Alasita — a word meaning "buy me" in the Aymara language. It's held each year in honor of Ekeko.
(below) Crowds accompany the Bolivian deity statuette "illa of Ekeko" as it is driven to the Alasitas Fair, in which Ekeko is the central figure, in La Paz, Bolivia, Saturday, Jan. 24, 2015. The pre-Columbian figurine that symbolizes abundance was recently returned to Bolivia by the National Museum of Berna in Switzerland, 156 years after being taken away from its native country. "Alasitas" is an Aymaran word that means "buy me," and is the name of the annual fair where people buy miniature items that represent things they hope to attain within the year. (AP Photo/Juan Karita)