NASA: Forest loss leaps in Bolivia, Mekong region
August 8, 2014 - News.Mongabay.com
New satellite data from NASA suggests that deforestation is sharply increasing in Bolivia and Mekong countries during the second quarter of 2014.

NASA's Quarterly Indicator of Cover Change (QUICC), a MODIS satellite-based product that underpins Mongabay.com's Global Forest Disturbance Alert System (GloF-DAS), detected a significant increase in forest disturbance in several countries between April 1 and June 30, 2014.

Bolivia's rate of forest loss was 200 percent higher than a the five-year average, according to Christopher Potter, a Senior Research Scientist at NASA Ames Research Center who co-led development of the tool. Clearing was concentrated in the Department of Beni.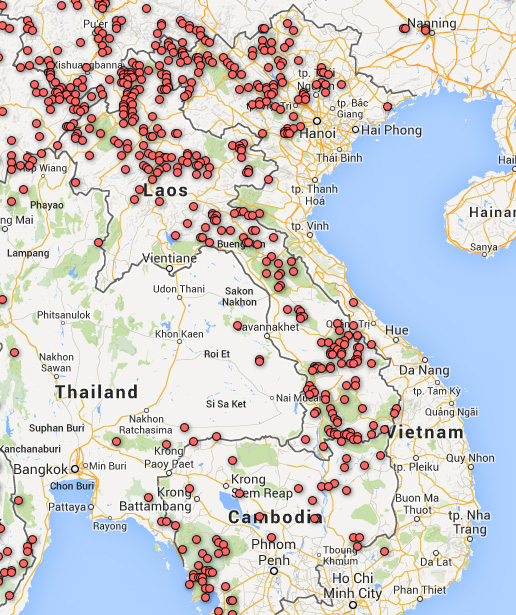 In the Mekong region, Laos (135 percent increase in the rate of forest loss), Cambodia (123 percent), and Vietnam (73 percent) experienced the highest rate of forest cover loss.

"[There were] large areas of new woodland disturbance in Kampong Chaam, and Thum," said Potter. "[Laos had] new areas of forest disturbance country-wide.

Other notable increases occurred in the Philippines (84 percent); Indonesia (75 percent), especially in Central Kalimantan; and Peru (68 percent), notably in Palcazu and Tunin districts and Yanesha Communal Reserve.

New areas of forest disturbance in the province of Pastaza and Yasuni National Park in Ecuador, which overall had a 53 percent rise in forest loss relative to a five-year baseline.

GloF-DAS relies on NASA's Moderate Resolution Imaging Spectroradiometer (MODIS) sensor to detect changes in forest greenness cover relative to the year-earlier period. It registers change in all forest and woodland areas that have lost at least 40 percent of their green vegetation cover over the past year. Seasonal variation is generally mitigated through the product's quarterly baseline, although changes in some parts of the world, like boreal regions, can be affected by snow and ice distribution.

The tool can help highlight areas where deforestation and forest degradation is occurring on a quarterly basis, potentially providing insight to authorities, policymakers, civil society, local communities, and academics.

GloF-DAS was developed in a partnership between NASA Ames Research Center, Cal State Monterey Bay, and Mongabay.com.

Annual tropical forest loss. Nearly 8 million hectares of dense forest across the global tropics have been lost on an annual basis in recent years, according to research led by Matt Hansen.