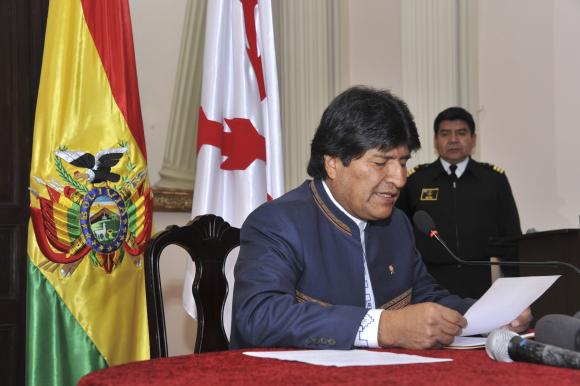 (above) Bolivia's President Evo Morales reads an official statement during a news conference in Sucre in this July 8, 2014 handout picture. Credit: Reuters/ABI/Bolivian Presidency/Handout via Reuters
Bolivia's president to seek third term to expand social reforms
July 14, 2014 - Reuters
By Daniel Ramos
LA PAZ (Reuters) - Bolivia's President Evo Morales will run for re-election in October to press on with his promise of expanding social reforms in the Andean nation, the vice president of the ruling party said on Monday.
The former coca farmer became Bolivia's first indigenous leader in 2006. Morales, 54, is lauded by supporters as a champion of the poor committed to easing the country's grinding poverty and standing up against the United States.
Historically one of South America's most unstable countries, Bolivia has enjoyed relative prosperity and calm since Morales came to power. Gross domestic product per capita doubled between 2005 and 2011.


"Our president and vice president are confirmed as candidates for re-election," Concepcion Ortiz, vice president of the ruling Movement Towards Socialism (MAS), said. "Social organizations across the country have said that he has to go for re-election."
Morales critics accuse the leftist politician of defying the constitution, which allows a president two consecutive terms in office. Morales was first elected in 2006 and then again in 2009. The constitutional term limit was adopted in 2009.
Last year the Supreme Court decreed his 2006-09 period in office should not be counted as a first term as it preceded the adoption of the constitution.
The opposition called the ruling unacceptable.
Morales is the clear front-runner in the Oct. 12 vote, polling at about 44 percent. His nearest rival, cement tycoon Samuel Doria Medina, trails by almost 30 points.
To win the election, a candidate needs to win an absolute majority or at least 40 percent with a winning margin of more 10 percentage points or more over the second-place candidate.
Bolivia is one of Latin America's poorest countries. However the vote comes a year after the roughly $30 billion economy grew 6.5 percent, its quickest pace in nearly 30 years, boosted by high prices for natural gas sold to Argentina and Brazil.
Growth will slow to a 5.7 percent this year, according to government estimates in December.
Under Morales, Bolivia has nationalized key industries, including the hydrocarbon and utility sectors. But he has been willing to guarantee legal assurances for foreign miners.
A new government program, "United we live well", pledges to consolidate the achievements of eight years in office, and continue political, economic and social reforms.
Morales is a harsh critic of the United States and staunch ally of Venezuela and Cuba.
In typically fiery rhetoric, Morales accused Washington and its European allies of "state terrorism" designed to intimidate after several European nations banned his jet from their airspace believing U.S. fugitive Edward Snowden was onboard.
Bolivia's opposition claims it is the victim of persistent political harassment by the government and that several prominent opponents of Morales have been forced into exile.

(Writing by Richard Lough; Editing by Lisa Shumaker)