(above) The Mi Teleférico cable car system will run from La Paz to El Alto. Officials estimate the system will absorb 20% of the current passenger flow – about 88,000 people – between the cities. (Daniel Walker for Infosurhoy.com)
Bolivia: Cable car connects La Paz, El Alto
May 30, 2014 - Inforsurhoy.com
The new public transport system will allow passengers to save up to 40 minutes in their commutes between the cities.


By Martha Moreno for Infosurhoy.com

LA PAZ, Bolivia – The 440,000 people who travel daily between La Paz and El Alto – cities with a joint population of 1.6 million – will soon save up to 40 minutes on their commutes when a cable car system becomes operational.
The system, named Mi Teleférico (My Cable Car), will run from La Paz, with an altitude of over 3,600 meters, to El Alto, with an average altitude of 4,000 meters. Officials estimate the cable car will absorb 20% of the current passenger flow – about 88,000 people – between the cities.
Users of the Red Line, which was launched on May 30, will save between 30 and 40 minutes per trip, as the system will take passengers from El Alto to La Paz Central Station (2.4 kilometers) in less than 11 minutes. The Yellow Line will travel 3.7 kilometers in 13 minutes and the Green Line (3.7 kilometers) in 16 minutes.
Mi Teleférico is the result of the Bolivian government's US$234.6 million investment.
The system, which will have a total of 427 cabins that can each accommodate 10 seated passengers, will travel at an average speed of five meters per second between 5 a.m. and 10 p.m. The service will operate 360 days of the year and close for the remaining five for maintenance, Mi Teleférico's manager, César Dockweiler, said.
In April, 260,000 passengers participated in free guided tours to try the new system, which operated from 9 a.m. to 1 p.m. on weekdays and from 9 a.m. to 6 p.m. on weekends and holidays. Final testing was carried out between May 5 and May 8, when the service operated during what would be normal operating hours.
The payment system will use a card that can be credited using automatic machines, which is much different compared with other means of public transport that require exact or approximate cash payment.
The full fare for using Mi Teleférico is $3 bolivianos (US$0.43), while the fare for students, elderly and the disabled is $1.50 bolivianos (US$0.22).
There are currently about 853 transport service routes operating between El Alto and La Paz, including micro-buses, which carry a maximum of 21 passengers; minibuses, which carry a maximum of 14; minvans – known as carrys in Bolivia – that take up to eight; and taxis, which take a maximum of five.
Traffic jams are a daily occurrence, especially at peak times. Additionally, frequent protest marches halt traffic circulation in major streets and along the 11.7-kilometer La Paz-El Alto highway.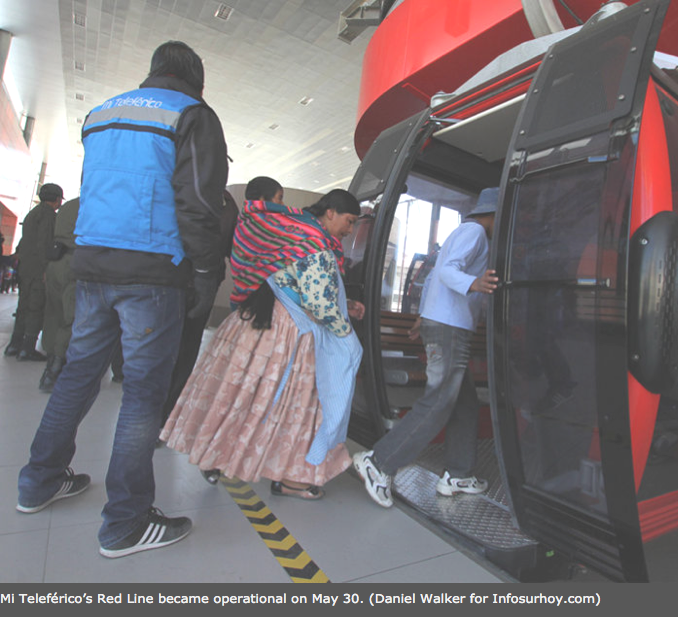 Transport companies in both cities initially protested against the new system. However, the government offered US$100 million in credit to the Federación Departmental de Choferes 1° de Mayo (Departmental Drivers Federation) so it could acquire new buses and provide feeder services to the 11 stations on the three cable car lines.
Mi Teleférico is favored by residents who are tired of wasting time in traffic and being treated poorly by bus drivers.
"Transportation in La Paz is a disaster," said Pamela Linarez, 32, who lives close to the Cementerio General District, where one of the Red Line stops is located. "Peak hours are a headache for people who just want to go to work or come home. There are so many cars, the traffic jams are endless."
Linarez added the cable car could be a good option, depending on the fares.
La Paz reportedly was home to 4,627 traffic incidents that caused 206 fatalities in 2013, according to Juan Luis Cuevas, the head of the Police Department's Traffic Accidents Division.