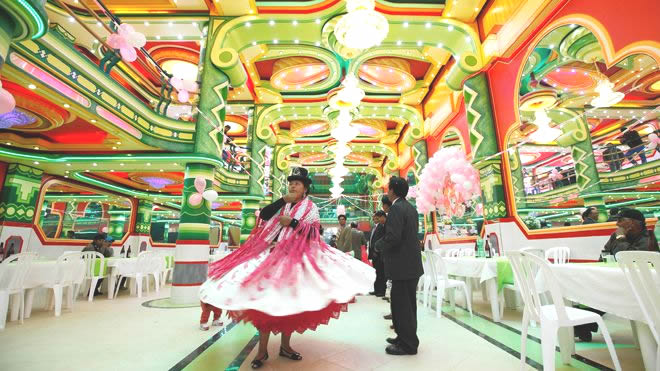 (above) In this May 17, 2014 photo, an Aymara woman dances in a ballroom of one of the newfangled mini-mansions rising up in El Alto, Bolivia. They attest to a new class of indigenous nouveau riche, many of them merchants who converted street stalls into fortunes. Owners often sink a million dollars into the opulent edifices. (AP Photo/Juan Karita)
(More photos below)
Bolivia Sees Explosion In 'Neo-Andean' Architecture
May 23, 2013 - Fox News Latino
Their emergence coincides with a modest economic boom coupled with a rise in Aymara pride. Bolivia's construction industry grew by 8.6 percent last year, double the economy's overall growth rate.
EL ALTO, Bolivia (AP) – Brash, baroque and steeped in native Andean symbols, the mini-mansions are a striking sight on the caked-dirt streets of El Alto, the inexorably expanding sister city of Bolivia's capital.
They attest to a new class of indigenous nouveau riche, many of them merchants who converted street stalls into fortunes. Owners often sink a million dollars into the opulent edifices, lavishing funds on brilliantly colored ballrooms.
"They are a new Aymara bourgeoisie that migrated from the countryside and made it big," said Xavier Albo, a Jesuit anthropologist, referring to Bolivia's dominant indigenous group.
The mini-mansions mesh modern and traditional architecture and flaunt, above all, two things: their owners' wealth and their Aymara heritage. About 120 such buildings exist across Bolivia, most in El Alto, says architecture historian Elisabetta Andreoli, who calls their style "neo-Andean." And many more are under construction.
Most have been built since President Evo Morales, the country's first indigenous leader and himself an Aymara, took office in 2006. Their emergence coincides with a modest economic boom coupled with a rise in Aymara pride. Bolivia's construction industry grew by 8.6 percent last year, double the economy's overall growth rate.
Rosario Leuca's seven-story manse, now being built, will have all the essential elements: A facade resplendent with symbols from the pre-Columbian Tiwanaku culture, plenty of plate glass and a luxury chalet penthouse with built-in barbeque grill and view of nearby snow-capped Andean peaks.
The lower floors of Leuca's castle are, as is the custom, dedicated to commerce. The ground floor will be a restaurant, the mezzanine a reception hall that fits more than 300 people. Higher up is a synthetic mini-soccer pitch and apartments.
"I am an Aymara woman, proud of my culture, happy and full of color. So why should my home not show what I am?" Leuca says as she does a few whirls to show off a puffy skirt, wool shawl and Borsalino hat that similarly bespeak her heritage.
Leuca capitalized on her culinary skills to rise from street vendor to restaurateur after moving to El Alto with her husband 10 years ago from a town near Lake Titicaca.
Freddy Mamami is the best-known architect of what have become popularly known as mini-mansions. A civil engineer who began as a simple laborer two decades ago, the 42-year-old now employs 200 workers. He has built 60 such mini-mansions in El Alto and has another 20 under construction.
The condor, serpent and the Andean cross — a kind of 'Tree of Life' in local mythology — dominate the stylized figures that brighten his facades.
"This work originated with the suggestion of a client," said Mamami. "And it occurred to me to stylize some symbolic figures of the Tiwanakus, because I identify with my culture. I'm proud of it."
The bright greens and yellows he uses "are colors that represent prosperity, hope."
The ballrooms of these buildings often account for half their total cost. Mirrored walls, columns and sumptuous arcs predominate. Chandeliers come from Iran, Italy and Spain.
"I have seen nothing like this style anywhere else," said Andreoli, who has co-authored a book on Mamami's work that includes a map with the locations of his El Alto repertoire. "I think a lot of countries, in Latin America as well as elsewhere in the world's South, have tried to set themselves apart from the classic and modern architecture that hails from the north."
Gaston Gallardo, an architecture professor at the Universidad Mayor de San Andres in La Paz, calls their style "baroque popular contemporary."
He is not a fan. Says Gallardo, "I see a certain deficiency in the balance of colors."
But Altenos, as residents of this city of about 1 million inhabitants are called, are generally pleased with their contribution to modern architecture.
Rafael Choque, a 25-year-old agronomy student, is particularly proud.
"To me, it's like a shout that says, 'Here we are! This is what we are!"
(below) In this May 8, 2014 photo, shows a view of the interior of a newfangled mini-mansion in El Alto, Bolivia. Brash, baroque and steeped in native Andean symbols, the mini-mansions are a striking sight on the caked-dirt streets of El Alto, the inexorably expanding sister city of Bolivias capital. They attest to a new class of indigenous nouveau riche, many of them merchants who converted street stalls into fortunes. Owners often sink a million dollars into the opulent edifices. (AP Photo/Juan Karita)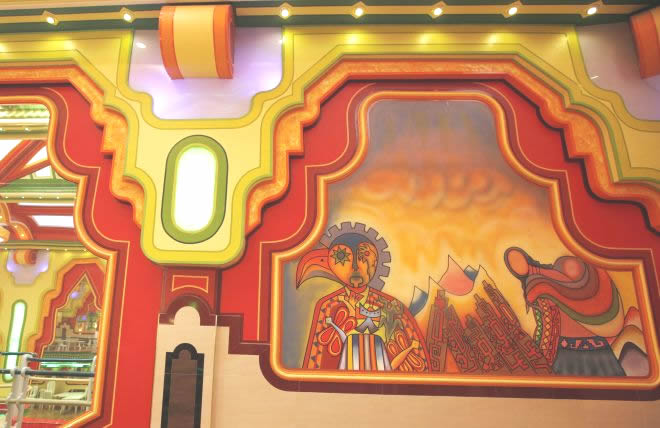 (below) In this May 8, 2014 photo, men work with plaster on the interior of a new mini-mansion in El Alto, Bolivia. The mini-mansions mesh modern and traditional architecture and flaunt, above all, two things: their owners wealth and their Aymara heritage. About 120 such buildings exist across Bolivia, most in El Alto, says architecture historian Elisabetta Andreoli, who calls their style neo-Andean. And many more are under construction. (AP Photo/Juan Karita)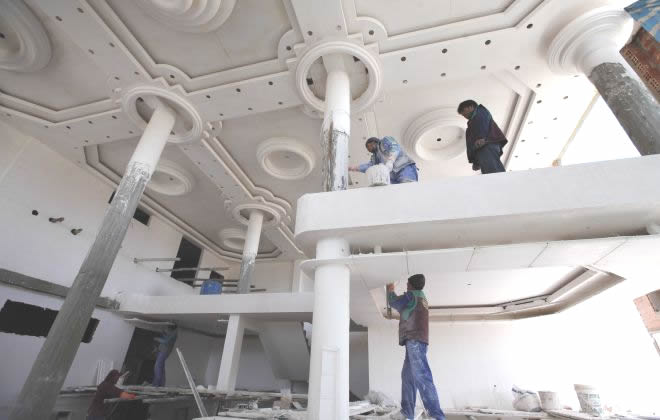 (below) In this May 17, 2014 photo, people dance in a ballroom part of one of the newfangled mini-mansions rising up in El Alto, Bolivia. They attest to a new class of indigenous nouveau riche, many of them merchants who converted street stalls into fortunes. Owners often sink a million dollars into the opulent edifices. (AP Photo/Juan Karita)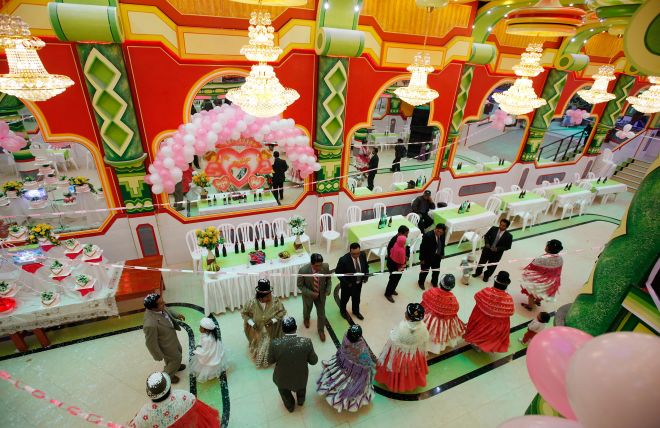 (below) In this May 17, 2014 photo, shows a view of the newfangled minimansions rising up in El Alto, Bolivia. The mini-mansions mesh modern and traditional architecture and flaunt, above all, two things: their owners wealth and their Aymara heritage. About 120 such buildings exist across Bolivia, most in El Alto, says architecture historian Elisabetta Andreoli, who calls their style neo-Andean. And many more are under construction. (AP Photo/Juan Karita)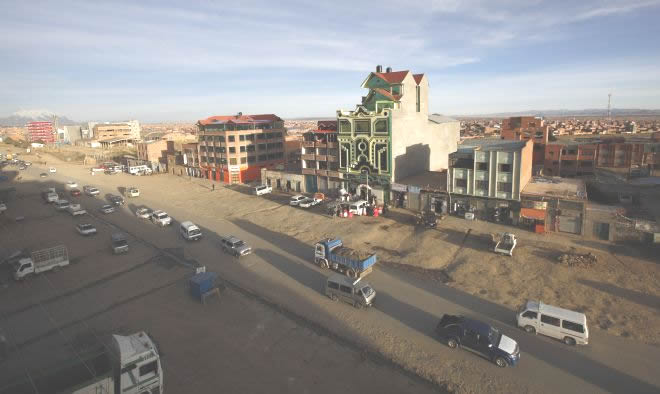 (below) In this May 8, 2014 photo, a view of the new mini-mansions overlooking the Illimani Mountain, in El Alto Bolivia. The mini-mansions mesh modern and traditional architecture and flaunt, above all, two things: their owners wealth and their Aymara heritage. Most have been built since President Evo Morales, the countrys first indigenous leader and himself an Aymara, took office in 2006. Their emergence coincides with a modest economic boom coupled with a rise in Aymara pride. (AP Photo/Juan Karita)