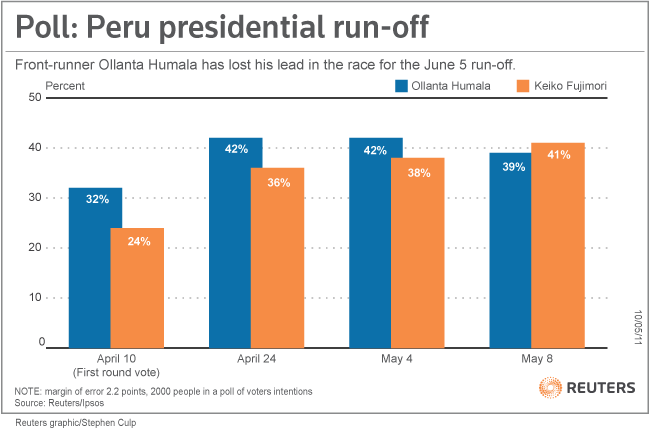 (above) Graphic on latest polls.
UPDATE 3-Peru's Fujimori widens lead in presidential race
May 26, 2011 - Reuters
Humala's image makeover fails to convince moderates

Fujimori camp survives human rights gaffe

Fujimori, Humala pick up endorsements (Adds endorsements, Humala rights controversy)
LIMA, May 26 (Reuters) - Right-wing lawmaker Keiko Fujimori may be pulling away from leftist Ollanta Humala 10 days before Peru's June 5 presidential run-off and a gaffe by a top aide has not hurt her, a poll showed on Thursday.
Fujimori, who is backed by the business community and is the daughter of imprisoned former President Alberto Fujimori, had the support of 52.9 percent of respondents, the pollster Datum said.
Humala, a former military officer, had 47.1 percent support when null and spoiled mock ballots were excluded in a simulated vote organized by pollsters, according to the nationwide survey published in newspaper Peru 21.
The poll of 1,214 people conducted on Sunday had a margin of error of 2.8 points. Fujimori's lead widened by about a point to 5.8 points from the previous poll conducted May 16 to 18.
Datum said Fujimori was not hurt in the latest poll by comments made last week by an aide, Jorge Trelles, who said her father's administration executed people without trials during a crackdown on insurgents in the 1990s but that it "killed less" than two previous governments battling guerrillas.
His comments caused an uproar in the local media, which said they proved her party has yet to show contrition for death squads unleashed by the elder Fujimori on suspected leftists during a conflict that killed nearly 70,000 people. The younger Fujimori said the comments were "unfortunate."
Her father, who was credited with opening the economy and ending hyperinflation, was sentenced to 25 years in prison after he left office for corruption and human rights crimes.
The younger Fujimori, who says she will ensure the poor get a share of the country's growing economy, also picked up endorsements on Thursday from two candidates she defeated in the first-round vote on April 10: former Prime Minister Pedro Pablo Kuczynksi and former Lima Mayor Luis Castaneda.
Former President Alejandro Toledo, who had been favored to win the race before faltering in the first-round, threw his weight behind Humala, though pollsters say most voters have already decided who they will support.


Humala has sought to convince voters he has abandoned his radical past, although critics fear that if elected he might roll back years of free-market reforms in Peru's booming economy.
Humala also has revised his government plan to make it more attractive to investors, dropping a controversial tax increase and a proposal to take over private pension funds.
To woo centrists, he has tried with limited success to distance himself from his former political mentor, fiery Venezuelan President Hugo Chavez, and recast himself as a moderate like Brazil's popular former president, Luiz Inacio Lula da Silva.
But Humala, who once led a bloodless insurrection against the elder Fujimori, has been dogged by his past in polls. His brother and father are two well-known Peruvian radicals.
The El Comercio newspaper ran an article on Thursday that it said provided new evidence allegedly tying Humala to rights crimes carried out in the 1990s, when his army unit was battling Shining Path rebels in the jungle. He has repeatedly denied the allegations.
The Datum poll said half of all voters think Humala might govern as an authoritarian and only a third said he would respect Peru's international accords, even though he has promised to be conciliatory and honor the country's many free-trade agreements.
Fujimori has overtaken him in recent weeks in opinion polls, relieving downward pressure on financial markets. Peru's stocks and currency plunged after Humala won the first-round vote on April 10. Stocks were 2.8 percent higher on Thursday and the sol hovered near a three-year high of 2.749 per U.S. dollar.
Fujimori's opponents say she is too close to her father and too reliant on his former aides. Her father's government collapsed in 2000.
(Reporting by Terry Wade and Teresa Cespedes; Editing by Eric Beech and Cynthia Osterman)